This day contained two events. One was a presentation down at Toll, and the other was an optional Robotics meeting.
Mika, Alexander, Jonna, and Anthony K. traveled to Toll Middle School at 9:45. Upon arriving, they helped get Snapdragon into the auditorium where Mr. Dall was going to present to the Wilson students.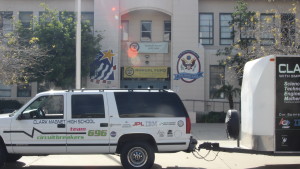 After Robotics members drove around Snapdragon for a little to inspire the students Mr. Dall began the presentation on why they should consider going to Clark Magnet High School. The Robotic members would return back to Clark at 12:00.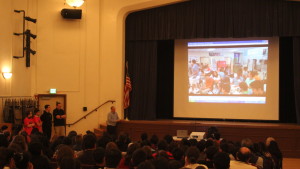 During the optional meeting, members planned the potential mechanisms for the shooter, hanger, and arm. They used a cane as an outline of what the mechanism would need to do and possibly look like.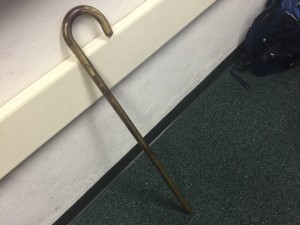 Alexander, our assiduous Vice-President, worked with Mr. Widholm and Mr. Black on constructing a team calendar. He also worked on creating a "Robot Timeline" spreadsheet. This would be used to collect all of our official meeting dates and give us as a team insight for planning a time-frame in which parts would need to be designed and fabricated.
Mika, our prodigious President, focused on Trello and putting all the necessary tasks that must be accomplished in the upcoming days. She organized them so she had a clear vision of what goals must be achieved and when.
Anthony K. of CAD worked on the base design of the robot. He used QHR as a point of reference.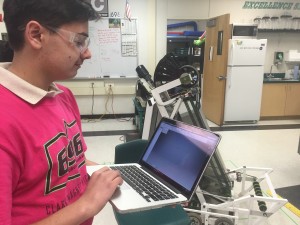 Devon of Prototype team and James of CAM tested possible wheel configurations for the base of the robot. They did this to not only make sure the configuration of the wheels would work, but to find out if the actual wheels were made of the correct material that'd best suit the tasks at hand.
Mr. Black also informed the team of our brand new sponsor, AutoMeter. As a team, we hope this is the beginning of a very long partnership between them and us.
Team 696 Robotics' Stronghold closed for the day around 8:30.