Members began working in the lab at 1:00 PM. If people craved some food, there were some delicious muffins and pastries.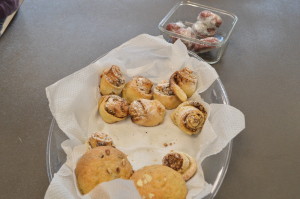 CAD members Sipan, Mikia, Claire, and Anthony K. finished dimensions for the electronics board and started to calculate the angle of the shooter for the best trajectory. They also helped Prototype team in making a fly-wheel shooter.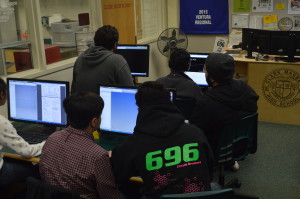 Daniel of Programming got the potentiometer to work on Reptar and so he began working on a PID control system for the arm. Other Programming member Jake assisted Daniel on the arm and Mr. Widholm with various tasks. John spent his time learning how to use encoders and he also developed Snapdragon's code.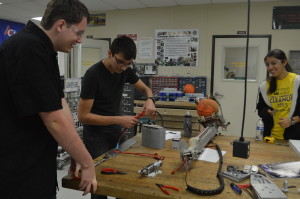 Nicole of Business team worked on the new local brochure. She also planned out the revisions for the sponsor brochure. Arvin and Anna completed the Google grant proposal.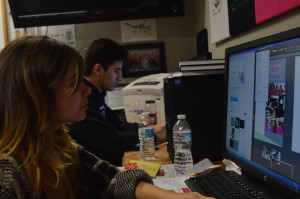 James of CAM helped Dustin of CNC Mill and Welding member Eden in completing the Portcullis – or Lift Gate. It is now a fully functional Obstacle we can test on.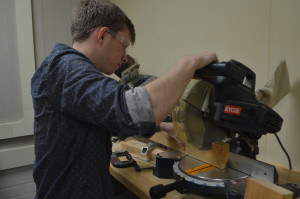 Luke of Web team finished some errands that needed to be completed. He then began the second revision of the scouting system.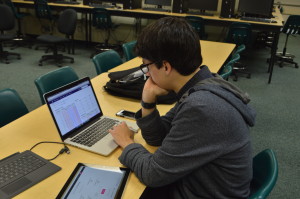 Dustin of CNC Mill helped Eden of Welding and James of CAM cut out parts of large wood that used to be part of a 696 shipping crate. They assembled the parts to construct the Portcullis but didn't have enough for the bottom of the structure.
Dustin then helped Devon of Prototype with making the Draw Bridge. The pair remounted some wood pieces to the hinging door to try and get the springs to pull the door back up but that failed.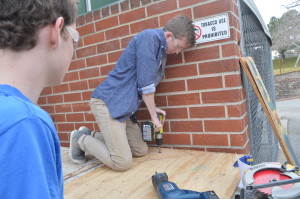 Roupen of Welding adapted two CIM motors to the robot prototype which was previously using two drill motors. Now the shooting mechanism can throw out a projectile from around 9′ away.
Prototype members Karin and Lauren worked with Lousaper of Lathe, Jonna of CAM, and Nanor of CNC Mill on the four additional platforms needed to optimize the drive practice time. They started out by scavenging for wood, then they began to cut, drill, and screw them together. They finished two platforms without ramps before running out of plywood and asking Mr. Black to order some more.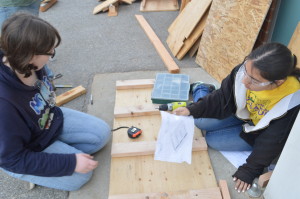 Mr. Black worked on general lab cleanup, organization, and improvements. He installed a hook for brooms on the lab wall, installed a 10-key number pad for logins and logouts, and he cleaned up scrap metal from the 4×8 router table in the garage.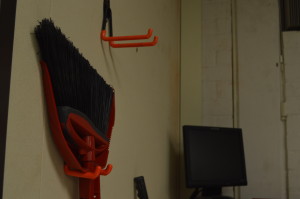 Mr. Black also swept debris from underneath the plasma cutter because a safe work-enviroment is a clean one. After all this, he moved obsolete toolboxes from the lab and garage to downstairs storage. Mr. Black also performed accounting and entering of receipts for expenditures and assisted Anna of Business with transferring the CNC router accessories to the new toolbox.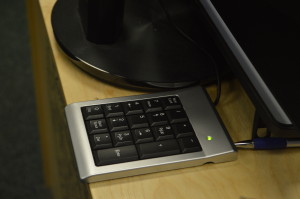 Mika, our prosperous President finished up the list of electronics that were needed, then she went over to the Business room to show them some errors in the Brochure and Sponsor Book.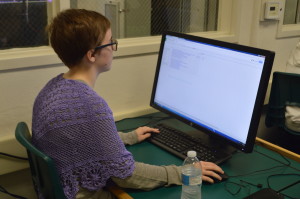 Alexander, our divine Vice-President finished the base frame – which needs final review before manufacturing. He also started creating the bumper in CAD and pocket the electronics plate in CAD as well. Alexander also taught Claire how to layout the electronics plate.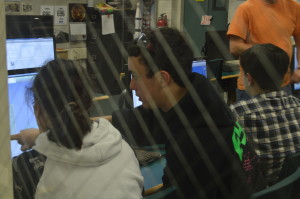 Team 696 Stronghold closed around 9:00.