As it was a minimum day, Team 696 met at the lab at 1:00 ready to work until 9:00 the earliest. Of course, Mr. Black, Mika, and Alexander began the work-day off with a meeting. The main purpose of today's meeting was to prepare the members for all the guests the lab would receive on Expo Day.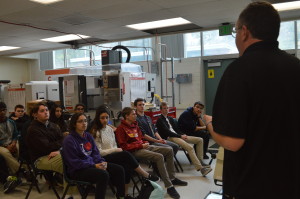 To fully prepare the members to answer parents' questions, the team performed small skits where one person would be the Team 696 member and the other a parent attending the Expo. It was very humorous indeed, but really taught the members how to properly act in that situation.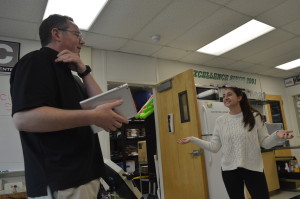 During the meeting, Luke of Web showed everyone how to use the email sign-up website. He had created it for parents to put in their email and sign-up for Team 696 Robotics' mail list easily and quickly.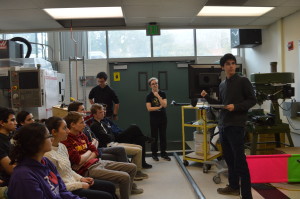 Simulation team member Jacob spent the rest of the day gathering parameters that he'll  need for future calculations. As the ball is going to be compressed in the flywheel mechanism, Jacob got some weights and placed them on top of the ball to see how much it's compressed depending on the weights.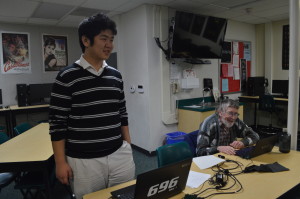 Over on Welding, Eden improved Obstacles and also cleaned up the lab for Expo Day. Member Roupen attached a piston to the prototype shooter mechanism. It is now able to shoot an object 12 feet.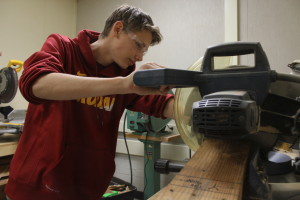 Andrea of Business team worked on her vinyling skills. She learned how to properly set up the vinyl in Signblazer – a major accomplishment. Andrea also kept working on the Stronghold button design as well.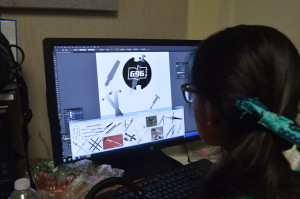 CNC Mill member Dustin tore off old supports for the triangular batter ramps as they were poor and couldn't support much weight. Then, with help from Welding member Eden and Prototype member Devon, Dustin rebuilt new supports out of large blocks of wood that're much better than before. Dustin then remade a list of materials needed to finish the batter and third Castle Tower and gave it to Mr. Black. He then ran the spindle warm-up program on the Mini Mill 2 and let other CNC Mill member Nanor run a part.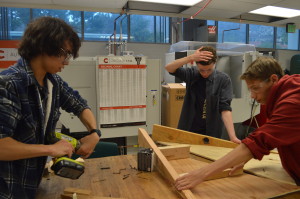 For dinner, Jacob and his family brought everyone delicious sushi rolls and dumplings. Sadly, there are no pictures to document this as the Photographer Samuel was out getting his haircut. He'd come back with less hair, but no sushi in his stomach. Yet he'd still write all about it in the blog as his other duty as Blogger.
Mika, our Pragmatic President, spent much of the day finishing preparations for Expo such as planning what goes where and when. She also cut stock for the Lathe and cleaned up the lab for Expo Day.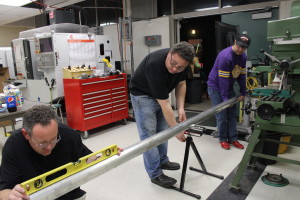 The lab closed at 12:30 AM. By then, the Lathe had cut some wheel-hubs and was ready to cut even more the following day for Clark Expo. Also, a safe-mode had been programmed for Snapdragon where the robot's speed is lowered and the shooter is disabled. This will come in handy for Expo so people other than Team 696 Driving team members can drive the robot without posing a threat.