Deprecated
: Function get_magic_quotes_gpc() is deprecated in
/home/buwqldmf/public_html/2016blog/wp-includes/formatting.php
on line
4366
Deprecated
: Function get_magic_quotes_gpc() is deprecated in
/home/buwqldmf/public_html/2016blog/wp-includes/formatting.php
on line
4366
Deprecated
: Function get_magic_quotes_gpc() is deprecated in
/home/buwqldmf/public_html/2016blog/wp-includes/formatting.php
on line
4366
While Clark's Expo Day didn't start until 11:00, Team 696 members arrived at Clark in their team shirts and black slacks before 9:00 AM. Expo Day is very important for showing what type of high school Clark Magnet is to parents and prospective students. While there are many classes and courses that are open to visitors, Team 696's lab is the main attraction to many. Clark's Expo Day even made the news on LA Times!
Shortly after 9:00, Business member Andrea designed and printed out flyers to guide parents and students to the lab.
Prior to 11:00, team members helped position multiple robots from past competitions throughout the school. Two members would stand with each robot to explain to guests what Team 696 was and to answer any questions. If prompted, which was often, one member would also lead intrigued guests to our Robotic's lab where other members were waiting to give a tour of the lab.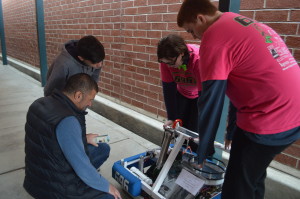 The lab was filled with excited parents being pulled forth by their children. With so much going on, many 696 members were available to explain what transpires in the lab to anyone that wished to know.
Sipan explained the Swerve Drive, a type of wheel mechanism designed and created by a past Team 696 member.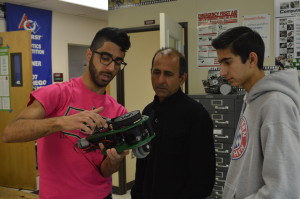 Mikia was in charge of 3D printing 696 dog-tags for the guests, so he would explain the steps taken when 3D printing objects. He also elaborated on how a mechanism is created.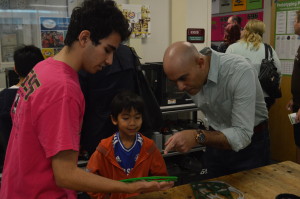 Lousaper was in charge of running the Lathe. She would place aluminum cylinders inside of the machine, and run a program to sculpt the first parts of a wheel hub from the cylinders.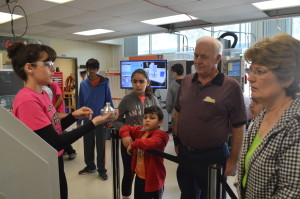 Mika walked around the lab with guests, showing them our many machines and explaining their functions. She also talked in-depth on how members were chosen to be part of the team.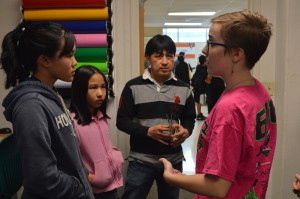 A very popular attraction was the driving of Snapdragon. Taking place right outside of the lab, people gathered around to watch our 2014 robot Snapdragon throw a ball and chase it down. Some lucky spectators were even able to participate in this event!
After Clark's Expo Day came to an end, and all parents and students long headed back home, Team 696 members remained behind to clean up their school and the lab. At around 4:00, Mr. Hoard and four members loaded Snapdragon into his truck and drove over to Mountain Ave.'s Science Fair.
Team 696's appearance at the Science Fair has been a long-kept tradition of the team and a favorite event with the children. Their joyful screams filled the air as they waited for the ball to get launched their way. They'd scramble to get it, then race to replace it back into Snapdragon.
The only thing the children loved more than catching the ball flung from Snapdragon was being able to actually drive it themselves. Team 696 member Daniel and Driver of Snapdragon explained to each student how to control the robot. Their faces could hardly contain their wide smiles.
A collective sigh spread around when it was time for Snapdragon and Team 696 to pack up and return to Clark. Promising to return the next year, Team 696 members loaded Snapdragon back in the truck and drove back to their lab.
During and between the Clark Expo and Mountain Ave.'s Science Fair, Team 696 members were hard at work as any workday.
Roupen of Welding advanced the prototyping shooting mechanism by adding encoders to each shaft. These will allow the team to get an accurate measurement of how fast the wheels are turning. Roupen then asked Programming member Daniel to write a program to remote-control the motors. They then began to wire the encoders using QHR as a base. Other Welding member Eden helped out CAM.
Andrea of Business has very nearly finished the button design for the team and Nicole completed the Logo section in the Brand Guide.
CNC Mill team was plenty busy as well throughout Expo Day, explaining the process of what they do with the Mill to visitors. Dustin also explained how the design of a CAD model gets transferred to the Mill and out comes a part. After Expo Day ended, both members Dustin and Nanor used the Mini Mill 2 in order to cut out parts that will be attached to the gearbox. They started by cutting out rectangles on the Plasma Cutter with help from CAM member Jonna, then put the parts into the Mll to drill it using Jonna's CAM program. Together, the trio made over 10 parts.
Some other major accomplishments of the day include how the final drive base design was finished, and the frame will start to be manufactured tomorrow. Another big deal was how the wheel hub stock was cut out on the Horizontal Band Saw then put through the Lathe whilst the Mill portion was finalized in CAM.
Today, the lab closed at 10:30 PM.