Deprecated
: Function get_magic_quotes_gpc() is deprecated in
/home/buwqldmf/public_html/2016blog/wp-includes/formatting.php
on line
4366
Members shuffled into the lab Sunday afternoon at around 1:00. They stood still, listening tentatively to their leaders as members were given their daily objectives.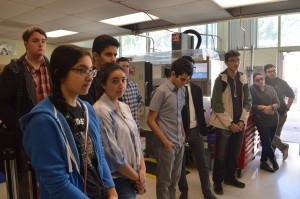 Jonna of CAM designed the side bars for the robot. She also used the Plasma Cutter to cut out the Drive Base. However, the metal for the Drive Base was not supported properly and the Base warped as it was heated up. The team was able to straighten up the metal later using clamps.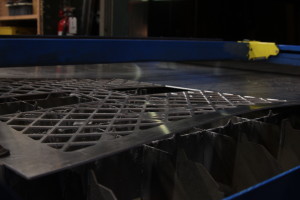 James, the other CAM member completed a simulation of the wheel hub in the Inventor HSM program.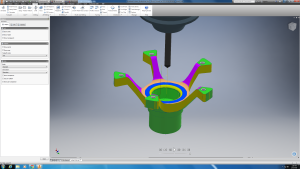 CNC members Nanor and Dustin drilled and tapped blocks of plastic that Mr. Widholm cut out from the Mill. They then ran James' CAM project through the Mill – creating the wheel spokes. Nanor and Dustin took Lousaper's Lathed wheel hubs and placed them into the Mill. Each run takes approximately 12 minutes. The pair completed 10 parts.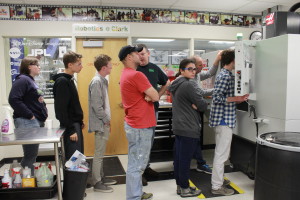 The amazingly handsome Blogger and Photographer Samuel spent much of the time taking pictures of the milled and lathed wheel hubs.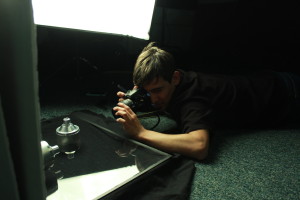 Prototype members Lauren and Devon helped Programmer Daniel in getting the prototype shooting mechanism to accurately shoot into the High Goal. They were assisted by Photographer Samuel and his graceful mentor Mariam.
Mika, our brilliant President spent her time cutting up the base frame. She also helped VP Alexander with the parts purchasing list.
By the end of the day, the robot frame pieces were cut, driver axles were set up on the CNC Lathe, and final edits were made to the robot base on CAD.  It was around 11:00 when almost all members finally headed home, but Mr. Black remained at the lab.
Prior to after everyone went home, Mr. Black verified the operations and setup for the wheel hub milling. This was very important because this meant members could now Mill the wheel hubs after the Lathe had its way with them.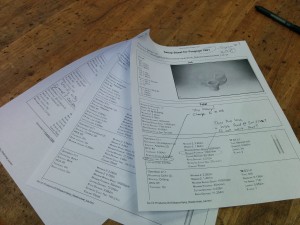 All the milling actually ended up jamming the Super Mini Mill 2's chip auger. This was the reason Mr. Black stayed behind after everyone else had left, he had to clean out the machine. Taking a whopping two hours to finish, the lab technically closed at 1:15 AM, with one tired Mr. Black and one unjammed Super Mini Mill 2.