The clock read 3:10 while members of Team 696 Robotics assembled in the lab to listen to Mr. Black and Mika. As always, the team held daily meeting that were held, well, daily. During these they were given updates on their overall work, new information, and their goals of the day to strive to accomplish.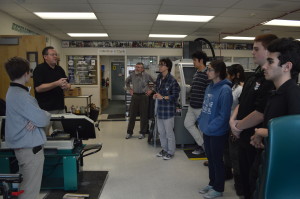 CNC Mill member Nanor helped CAM member James with drilling holes into the Base Plates. Due to the Plasma Cutter warping the metal, the pair were forced to use the Router to cut out the Base Plates. For the day, they were able to finish up two of the three Base Plates, but the holes don't exactly line up as wanted. James then began programming tool-paths to be able to use only the Router to cut the entire Base Plate.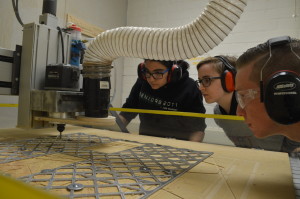 Andrea of Business team worked on the creation of a new Alumni Book. She researched and brainstormed ideas and even began to create the cover art using Adobe Illustrator. Andrea also started to work on creating the team's dog tags. Nicole continued working on the Brand Guide as well as helping Andrea understand how to navigate Adobe Illustrator. Nicole additionally asked Mr. Hoard to make revisions to the Brand Guide. Other members Arvin and Anna continued working on the Woody Flowers essay.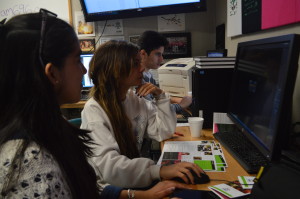 CNC Mill member Dustin worked on creating the side rails for the robot. Needing to Mill steps into the vice jaws and face the top of them, Dustin went to CAM member Jonna to write up a program for it. After this, Roupen of Welding worked with to Dustin prepare for the next CNC operations. Roupen helped Dustin socket the correct tools and set up the vices for when it will be used. After preparing to cut one of the side rails, they realized the machine range was too small. All left to do now is to split the four existing CAM programs for the rails into eight.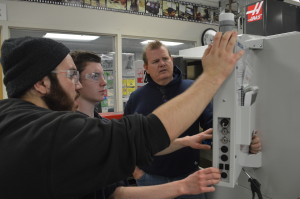 The lab closed close to 7:00. Early in the meeting Mr. Black was called away to attend the Montrose-Verdugo Chamber of Commerce Recognition dinner to receive the Educator of the Year award.