While most members of 696 arrived to the lab at 1 to begin work, Mr. Black had the lab open at approximately 11:35. So while I was still waking up, Mr. Black was participating in a conference call with team 3476 Code Orange. What was gained from this call seems to be that both teams (696 and 3476) share a similar understanding of what the FRC 2016 game requires for a team to be successful.
Then, a little after 1, all team members gathered in the Cinema room located next door to the lab. It was there that Mr. Black reviewed safety and standard operating protocols for the end of the work day. He also gave an update about important dates for the upcoming week. Besides this, Mr. Black also outlined the team's three main objectives: to build a highly competitive robot that would excel in the competition; to educate students while they gain insight, knowledge, and a variety of skills in multiple areas of expertise; and to have fun while still completing the other two objectives.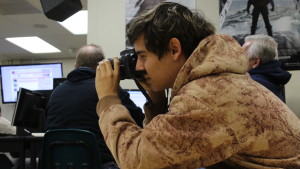 It was around 1:45 when Mr. Black started the "idea share" portion of the meeting. This consisted of all members giving input on what they believe would make a good robot for the competition or on what they thought the team should really focus on. A random member would be chosen and they'd each get 1 minute each. Claire of CAD stood by the whiteboard and listed what was mentioned. This way of discussion allowed a more discrete and broad input than prior years experienced. The team worked together to find convergence between various ideas.
Some ideas that deserve to be mentioned would be Mariam's and Anna's. Mariam wished for the robot to have a large Canon, perhaps she meant it as a camera, for she is the photographer's mentor after all. Anna of Business voiced the idea of a robot with a single mechanism that could perform multiple tasks that the game called for. This was the first "omni-tool" idea presented during the meeting. Mr. Hoard simply stated that we should "build a robot that wins," which certainly seems like something to strive for.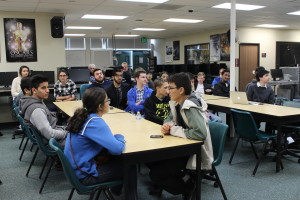 One thing everyone desires is to consolidate the mechanisms as much as possible – a big step forward from yesterday's proposals. What was also discussed was how shooting for the high goal seems very achievable and may not be much slower than shooting into the low goals. The idea sharing drew to a conclusion at 2:50 where the members split off into groups to perform the necessary tasks asked of each of them.
Members whom shifted through the kit of parts found some interesting mysteries, including a small board from Analog devices bearing resemblance to a micro-controller. Its utility is yet unknown. The team is in agreement that we need to get the drive base done very soon, using COTS parts – consumer off the shelf.
Prototype members Devon, Lauren, and Karin met with Leaders Mika and Alexander, Roupen of Welding, Sipan, Anthony, Mikia, and Claire of CAD, Jonna and James of CAM, and Lathe member Lousaper in the Cinema room to discuss what needed to be prototyped for the robot. Once coming to a conclusion, they split off into two groups.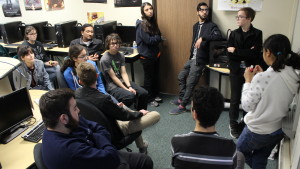 Lauren, Karin, and Devon of Prototype paired with Jonna of CAM and Lousaper of Lathe to worked together. They began prototyping merged arms and a climbing mechanism for the robot.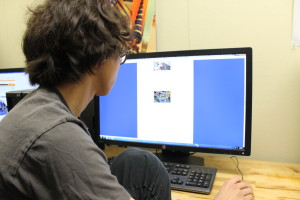 Meetkumar of Programming worked with James of CAM. Together the pair constructed a prototype of the magic triangle that measured 15 inches in length. After this James got involved with the robot design some more.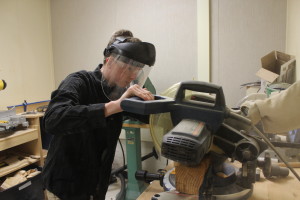 CNC Mill members Dustin and Nanor were tasked to make some obstacles to practice with. Eden of Welding assisted them. The team started with constructing the Sally Port Door. First they printed out the blueprints and deciphered them. Then they cut out a piece of wood to about 2 by 3.5 feet for the door. For a ramp, they used a hollow door after adding side supports. They wanted the base to stand about 3 inches tall, so they added wood to the underside as Eden started on the ramps leading to the base.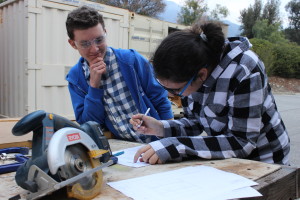 Using the large band-saw, Eden cut out 3/4 inch wood board wedges to form the ramp. The two CNC Mill members also started making a CAM program that will be used to cut out an upper goal area for the castle to be used in later practice runs.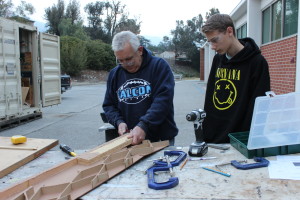 Jake and John of the Programming team continued learning how to program robots. Jake worked on limiting the speed of robots with coding so it won't move too fast during future presentations and public events. Bhavin and Daniel of Programming kept working on the vision processing. They were able to get a feed from a Playstation EYE but will continue working to send the feed through the robot to a computer.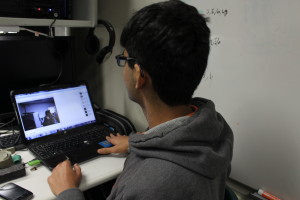 Christopher of Animation spent time learning how to use CAT in 3ds Max. He also started to work on a character model after creating and revising a schedule. Even though the other member Anthony C. was sick at home, this didn't stop him from doing his part. Anthony C. developed an ideal sequence for animation so they'd have something to work with once he makes it back to Robotics.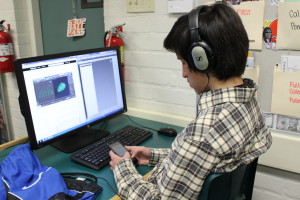 Sipan of CAD created a list of priorities for the proposed robot. He also Expo CADed a design for a robot he named Short Stack. The design would allow it to fit under a 14 inch bar if needed to.
Business member Arvin created a small outline of necessary components of the business plan. He also reviewed the Entrepreneurship Award submission.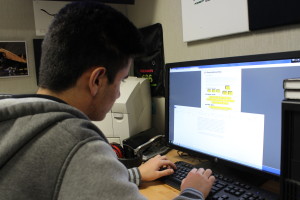 Luke of Web spent the day developing and prototyping a scouting system that will be used during the competition after some additional adjustments and updates.
Mika, our Cherished President took it upon herself to be the ever-calming presence in these chaotic times as well as the voice of reason. She dished out the various tasks for the day, then helped discuss ideas with Prototyping and CAD teams. She also checked up on other sub-teams' goals and their statuses. Mika planned out the robot design and team's strategy for the game as well.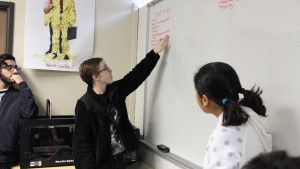 Alexander, our serene Vice-President started working for today last night. Indeed, he spent much time the night before doing an in-depth game timing analysis and strategy analysis. He compiled and looked at the possible tasks our robot would be faced with, and calculated how long each would take. This data would be very important for the team to reach a well informed strategic design. Alexander also served as a scribe throughout the morning design discussion, typing up the voiced opinions as a reference for later use. He later helped out the CAD team design agreed-upon mechanisms that'd serve multiple tasks. This was all done while keeping in mind the dimension restrictions set for this competition. All of which couldn't be done with out the useful whiteboard, allowing members to visually share their ideas and thoughts.
The lab closed around 8:40, but will be reopened the very next day. For one does not simply go a day without working in the lab during Build Season. And so i shall say in conclusion, until next time.