Once again, it was Robotics time. Right after school, around 3:00, members of Team 696 filled the lab to listen to Mr. Black, Mr. Hoard, and the two leaders Mika and Alexander discuss this day's objectives.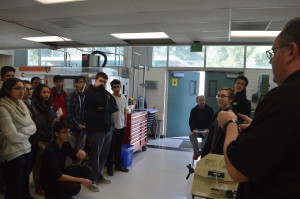 Simulation member Jacob kept busy throughout the day. He started first by finding out about rolling friction. At first, Simulation team tried to get data on how the RPM was reduced when the ball was shot, but the shooting prototype wasn't functional. They then took the shooting prototype and got a video of Jacob pushing a ball through with a spring. Simulation team used the video to figure out the compression and the change in rotation for the wheels.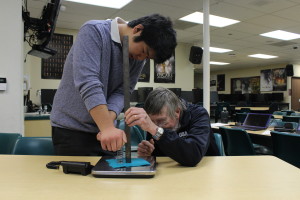 Andrea of Business team continued her work on the team's dog tags through Adobe. She also began vectoring names and creating a template for each individual dog tag. Arvin and Anna tried finishing up the Chairman's Essay.
Welding members Roupen and Eden worked on the Robot Frame. Roupen nearly finished welding everything needed, all left to do is to weld the battery holder and the last three bumper support mounts.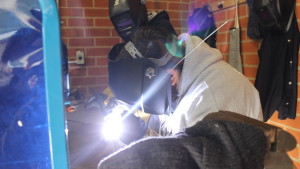 CNC Mill member Dustin set up and cut out four shooter arm plates, each taking approximately 15 minutes. Being hard to secure, the fourth plate rattled out of the vice and broke a chamfer Mill. After cutting out a piece of metal, he ran the program to make a fifth one. Nanor continued working on gearbox plates.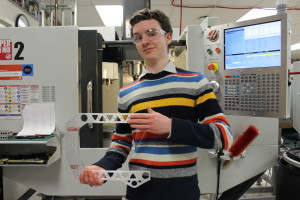 CNC Lathe member Lousaper finished making battery plate standoffs which she began the prior meeting day. She used the Lathe to create them.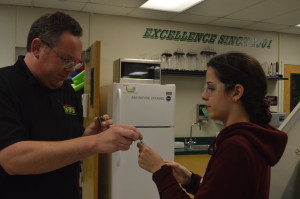 James of CAM helped finish two of the shooter "claw" plates before he headed home. James also helped with an electrical connector. He and Anthony K. of CAD might have found a solution to mounting the constant force springs to the elevator mechanism, but haven't properly checked their work yet.
Mika, our Tactful President created a need-to-be-machined parts schedule for members, cut up materials, and helped put together parts for Roupen to weld. Of course, she also looked over all sub-teams, assessing their work and helping out when prompted. Mika looked over the Chairman's Essay, and wrote her own version of it to show as a counter as to ascertain which version would be best to submit.
Mr. Black reviewed the Chairman's and WFFA Essays. He also oiled the manual Lathe, moved the Hexawall out of the lab, and organized the endmills and taps drawer. Thanks to this hard work, the lab continues to be a safe and clean environment.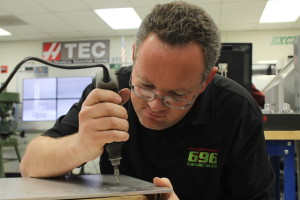 The lab closed at 10:05 PM.