As always, the workday began with a meeting where the tasks and goals were given out for the day.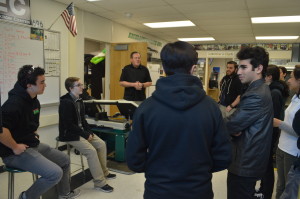 One major accomplishment of the day was the completion of welding the Robot Frames, done by Roupen and Eden. The welding was finished to the point for wiring to begin around 7:00 PM, and around that time Roupen began to weld the competition Robot Frame.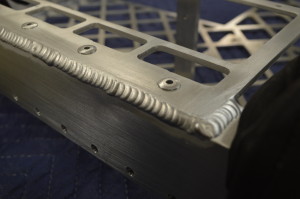 Lathe member Lousaper sanded down the ThunderHex shafts. Using the manual Lathe, she did so to allow them to fit into their bearings.
Programming member John worked on getting Snapdragon to move autonomously while Bhavin continued working to get visual processing to work through the network. Jake focused on figuring out which batteries are best to use.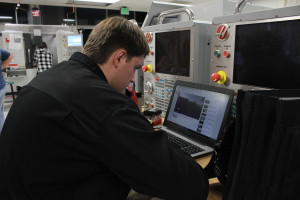 Over in the Business room, the lone member Andrea continued research on button prices. She also expanded her search to pens. Then, she discussed possible Chairman's Video ideas with Media member Samuel.
CNC Mill Nanor made the Bumper Supports. Other member Dustin was assisted by CAM member James in completing both SB50 connectors. James also programmed the CAM for bumper supports to begin to be manufactured.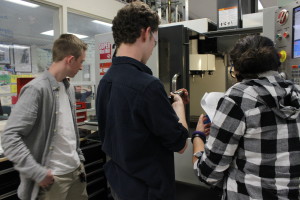 Jacob of Simulation team and his mentor Dr. Stone have decided to stop focusing on completing the overall calculations, but rather to focus on the specific compression of the ball and how it will affect the battery. During their new calculations, they found that the motor's torque is significantly higher than the stall torque.
Karin of Prototype spent the day helping out Mika and Mr. Hoard. First she learned how to cut 1″ x 1″ box tubes at unusual angles. Then the trio began to assemble the competition robot with rivets.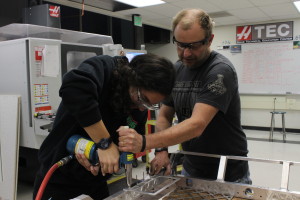 They also set up the special table, covering it with a blue blanket and placing assembly and wiring items atop it. Karin drilled and tapped holes on the Practice Bot because it had to be drilled before any assembly could take place.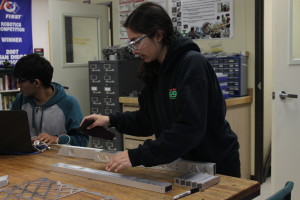 Mr. Black searched through the sumps on the Haas Mills for fine chips. He also bolted the Burr King sander to the floor for earthquake safety. Mr. Black also printed and prepped sponsor Thank You letters now ready for mailing. After this, he then entered about 26 lines of items – over $4,000 – to the expenditure accounting sheet for reimbursement purposes.
The lab closed at around 10:10 PM.