There was no school this Monday as the GUSD was celebrating Lincoln's birthday this day. But this just meant Team 696 could meet for longer.
Members filled the lab at 9:00 AM, ready to begin their work. Today was to be a long workday, and the faster they get started the more that can be accomplished.
Sipan of CAD finished the design for the control board module. He printed out the hole positions, getting Karin of Prototype to become accustomed to the button placements before finalizing the design. They then decided to drill and tap the holes to mount the Leonardo board in order to save some time. Cutting will begin once the 1/4″ polycarbonate arrives.
Welding team Eden and Roupen welded for the day. They were able to weld plates to the superstructure, then file down the superstructure arms so they can fit onto the frame.
For lunch, the members were awarded with amazing sandwiches. Condiments and other toppings were also present, as well was sodas for the very happy Team 696 member to grab for themselves. There was even chips present! It was fantastical.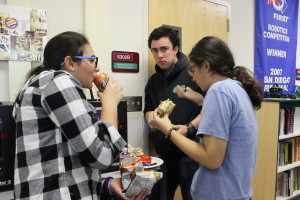 Business room member Anna, newly returned, put the GEF logo on the wall. She then finished the last revision of the Business plan. Nicole, other Business member worked on the Alumni Book.
CNC Mill member Nanor was helped by CAM member Jonna to begin manufacturing the sprocket plates from cylindrical stock that Dustin had previously cut out. The piece was not finished however, due to a tool breaking and some CAM difficulties. Dustin was manufacturing the first half of the Robot Arm during this time.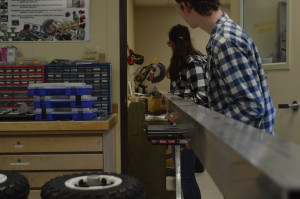 Lousaper, the sole member of CNC Lathe team, started making Gearbox Spacers. These will be used to add space to the gearboxes.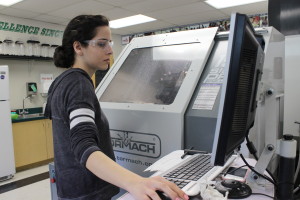 Programming team member Jake remade SnapDragon's code from scratch during the meeting. Other member Daniel worked with Karin from Prototype team to find the types of buttons needed for the Control Board. Bhavin spent the day getting more commands set up into the code for the new Robot.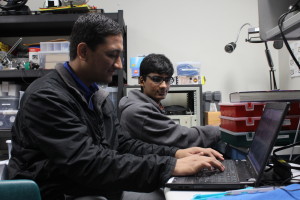 James of CAM worked on the Main Robot Arm on his computer. But while they were running the part, the spindle crashed down onto the part.
Other accomplishments of the day include the finalization of the Winch Gearbox, with machining to be started soon. It will use two 775pro motors close to 75:1, and will be used to retract the telescoping arms to lift up the Robot at the end of the match – designed to lift it in under 2 seconds.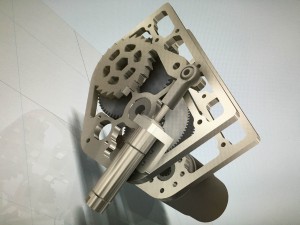 The 3″ x 3″ box-tube of the Arm Structure has begun being machined. Special tires have been installed on the Practice Robot as well as full transmissions and a belt-drive system.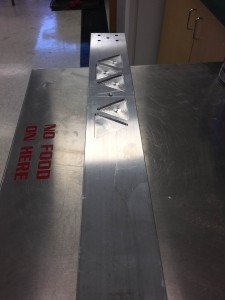 The lab closed at around 6:30 PM.