As usual, the team held a meeting before going to their tasks. At this meeting, they were told what to do for the day, and congratulated on their hard-working efforts for the past few weeks.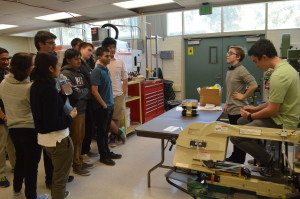 CNC Mill member Dustin began Milling the bar-stock for the three sizes of Arm Extension mechanisms. All six completed, two being 0.75″ and some 1.5″, during this Nanor and CAM member Jonna modified the black sprockets as some new holes needed to be drilled.
Lousaper, the team's CNC Lathe team member, started making the pivot and winch gearbox shafts. Lots of progress was made this day.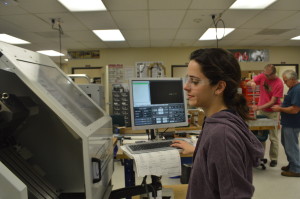 James of CAM designed a Lathe operation for the very first time. Even he, an aged member of Team 696 still learns new things on a daily basis on the operations of the lab. The part James was designing will be a spool to be cut out on the Haas CNC Lathe.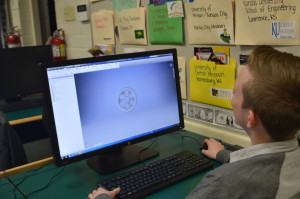 Andrea of Business team finished vectoring dog tags for mentors. She had been using Adobe Illustrator, and now she continued to design the Alumni Book.
Programming team member Daniel was able to get the 2016 Robot to drive after much work. John watched Daniel throughout this process to fully understand how to program the Robot. Jake continued working with the team's batteries.
Web member Luke continued writing up the Chairman's Video script. He was helped by the beautiful and amazing Blogger and Photographer Samuel. They were also assisted by Clark student Maggy.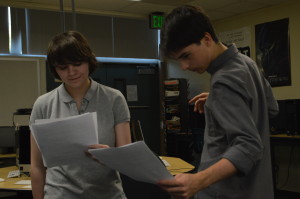 Mr. Black and Mr. Widholm continued their learning of the Haas ST-10 CNC Lathe. Today they attempted making the Arm Pivot Tube with very nice results. While they're still running the machine manually, they hope to have it run an automatic program tomorrow. Mr. Black also took some parts to the Team's anodizing sponsor and picked up rivets for the Frame Skidplates.
As the team would be staying late, pizza was brought and fed to the members. We were very happy and joyous for this event.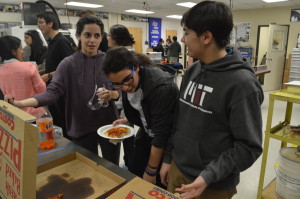 Also, the 2016 Robot has made its first steps! That's right, the practice bot is now able to drive wired – a very big achievement and notable milestone in this Build Season.
The lab closed around 1:30 AM.