This morning's meeting was a little different than usual. Besides assigning daily tasks like usual, Mika and Alexander unveiled two gearboxes designed and created solely by students. This is a first for the team, so obviously it will stand as a milestone as to the evolution of Team 696.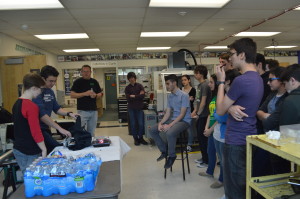 Simulation team member Jacob talked with Dr. Stone, his mentor, on some inconsistent work values. They decided to try solving some of the work with calculus using time and power as derivatives. They also troubleshot and continued working on the flywheel code.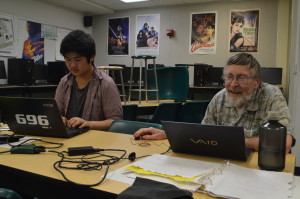 Devon and Lauren of Prototyping team helped CAD member Anthony assemble the Robot's Hanging Arms. These would allow the Robot to lift itself off the ground at the end of the match. Being concerned with how the metal glided over the button head stops, the group tested various methods of stopping the arms. They decided to grind down socket head screws and counter sinking for flat heads when finding that buttons are superior.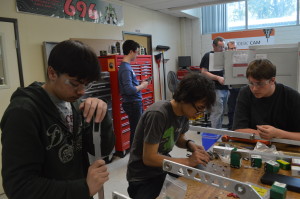 CNC Mill member Nanor machined holes into long pieces of box-tube for the Robot's Skid Plate Rails numbering five in total. During this, other CNC Mill member Dustin cut stock out for the small arm plate supports using the Horizontal Band-saw. Then Dustin ran the first of four operations on the fresh cut stock using the Super Mini Mill 2.
Business team member Nicole updated the Brand Guide and worked on t-shirts. Andrea worked on the Alumni Design and finally began laser-cutting dog tags after redoing the template on Adobe.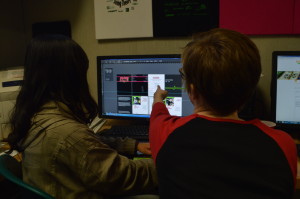 James of CAM helped define the stock size for the winch cable spool. All left to do is run the mill.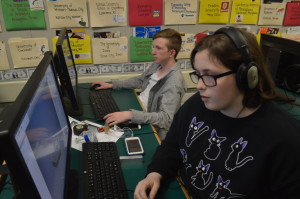 Programming team member Jake continued to test batteries. Other member Bhavin worked on Vision Processing while John worked on programming SnapDragon to drive autonomously.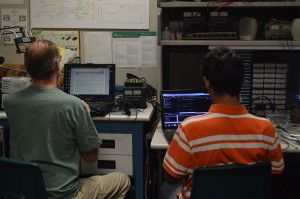 Daniel and Dr. Clouse worked together to decide the future OI device on the control board as well as getting the Robot to drive wireless. Daniel then took the Robot out for a little test driving.
Lousaper, the Lathe team member, started on the Shooter-Gearbox Spacers.
Mr. Black introduced Business members Arvin and Andrea to the art of laser engraving. He also launched new DonorsChoose projects for 2D printing filament and machined the Winch Spool on the Haas CNC Lathe. Mr. Black additionally sourced switches and parts for the Control Board.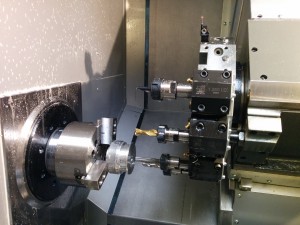 The lab closed at a healthy 1:00 AM.