With much to do, and not a lot of time, Team 696 split off immediately to finish their assigned tasks. With Build Stop only a week away, tensions could be felt as members worked their hardest and hoped nothing would go wrong.
James of CAM and Dustin of CNC Mill team worked together to run the first operation of the Winch Spools. These parts had already been worked on by Mr. Black on the Haas Lathe, so Dustin used James' CAM program to cut out special steps in a set of soft jaws on the Mill.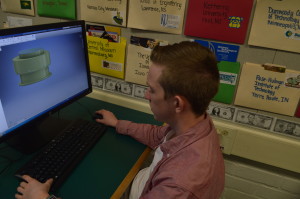 The pair continued to Mill out spokes and holes in each the six Spools. James' then gave Dustin another CAM program to face off the remaining stock. Other CNC Mill member Nanor continued where Dustin left off when he headed home.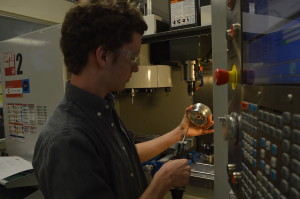 Jacob, member of Simulation team, worked on the documentation of motor curves, flywheels and the ODE function and solver. All of this data will be put to use in few days when calculations would be created.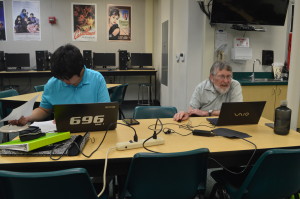 Business team member Nicole put sponsor names on the Team's trailer with vinyl.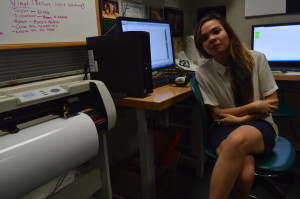 Other member Andrea helped wet up the cafetorium for the Robot to practice driving. She then began button designs as the dog tags had been previously finished.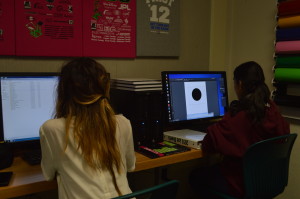 Jonna of CAM was accompanied by other members such as Mikia of CAD and Karin, Meetkumar, and Lauren of Prototype set up the Obstacle Field in the cafetorium for the robot practice drive. The group first had to clear out the tables and chairs to get the floor wide and empty.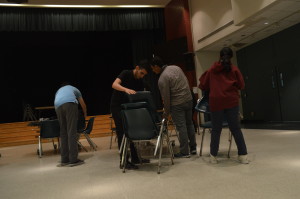 Mr. Black rebuilt the X and Y axes of the Manual Mill. This had to be done as the X-nut was falling off and the machine itself needed cleaning. It works much better now that it's adjusted and oiled.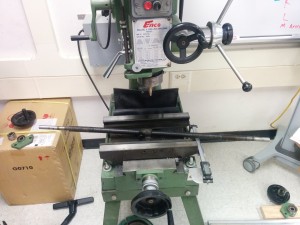 The lab closed at a healthy time of 9:55 PM.