As usual, Team 696 members attended their meeting. Led by Mika and Mr. Black and Mr. Hoard, members were given deadlines for Ventura money and T-shirt orders.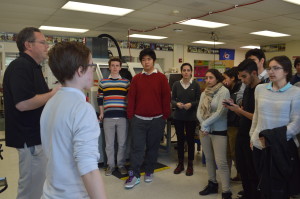 Samuel, the Photographer, was busy for the entire day. He was preoccupied with taking picture of individual Robot Parts in the Cinema Room. While these pictures of the newly anodized parts are quite beautiful, this meant he couldn't take many photos of sub-groups working. We forgive you Samuel, for we know how hard you work for the team.
Lathe member Lousaper has been working on her Lathe for the past two meetings. Both times she made Delrin Standoffs for the Polycarbonate Claw of the Robot.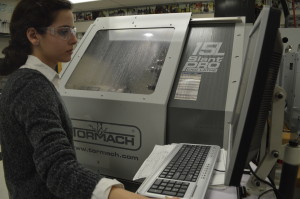 Jake from Programming worked with CAD member Claire and Prototyping member Lauren. With the help from those two, Jake learned how to use the Drill Press. Jake then organized batteries and finished the rough draft of all competition battery tests. These will soon be placed into a folder and categorized into a comprehensive graph showing the best batteries.
CAD member Mikia worked on bumper design, bumper mounting, and providing the CAD designs to members working on assembly. Other CAD member Anthony K. worked on fixing the Telescoping Arms and mounting them onto the Practice Robot with the help of Prototype member Devon.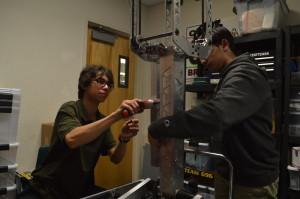 Jacob of Simulation continued working on documentation, finishing up the section on the ODE functions.
Welding member Roupen  began to weld the Hanging Mechanism Support Structure. This structure connects the first box-tube in the Hanging Mechanism to the Robot Arm with an 1/8″ plate using bolts. Welding rookie Eden helped Roupen by holding the part during the welding process.
Business team had a busy day. Nicole continued t-shirt Business Plan designs. Anna worked on the actual Business Plan. Andrea continued her hard-work on the button designs, only needing to finish edits on Photoshop.
As it was Nanor's Birthday, cake was brought for the team. It was quickly eaten during a work-break.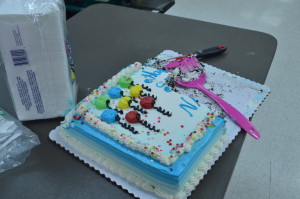 Programming member Bhavin worked on revising code that runs the Robot's Pivoting Arm and Shooter. He also a tried a new configuration for the Robot's Camera that will allow the Team to quickly test and debug the Vision Processing Program.
James of CAM helped Dustin of CNC Mill. The super-duo created Gearbox Output Shafts out of 7075 aluminum as opposed to the main Robot material – 6061 aluminum.
Dustin of CNC Mill team finished off the Arm Plate Supports by drilling two small holes in each one.
Mika, our Critical President put together the Gearboxes and the Arm. She then worked on wiring everything up.
Mr. Black rebuilt the Manual Mill's vise. He also assembled three Trampa Wheels and bored out a bushing on the Competition Robot using the Haas Lathe.
The lab closed at around 8:55 PM. With Build End nearing faster than ever, every task is critical to the Team's success.