Programming team members were busy doing separate tasks. Jake worked on the Team's batteries – testing them and making certain they were in peak condition. Bhavin and Daniel continued to program different parts of the Robot. They also worked on tuning a control for turning on the Practice Robot and tuning the controls for the Pivoting Arm that will be on the Robot. After this, Daniel tried something new and worked on soldering some motors for the Competition Robot.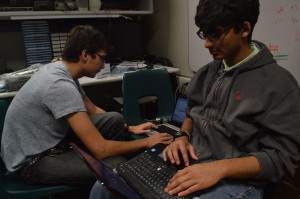 Jacob of Simulation team worked with Dr. Stone in the Cinema room as usual. With some assistance, Jacob was able to recreate some data for the documentation. He also fixed some formatting before departing for the day.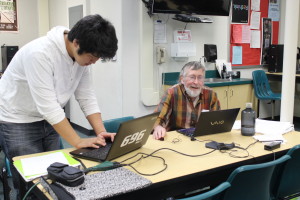 CNC Mill team member Dustin finished three parts with help from CAM member Jonna. Dustin first manufactured out shoulder joints or "socks" from three pieces of stock using tabs. He then created the omni-wheel hub, which went very quickly as it was a small part. Lathe member Lousaper had already cut the stock out on the Lathe, so the going was fairly easy for Dustin.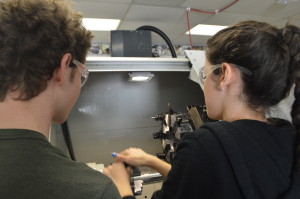 The final operations of the day were making the Shooter Plate that will push the ball into the flywheels. The whole part took three hours, and Dustin was able to make three parts.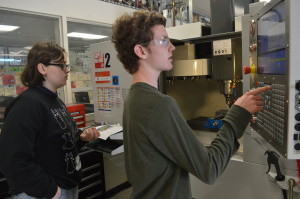 Andrea of Business team finished the Alumni Cover and worked on the Suburban. She also began looking into the parts-list that will be needed. Other members Arvin and Anna used the Vinyl machine to create sponsorship logos that they'll later place on the Suburban.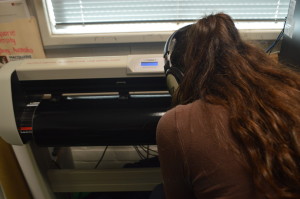 As the day ran from around 9:00 AM and would continue past 6:00, lunch was brought for the members. The food was from El Pollo Loco, with chicken, mac-n-cheese, and rice.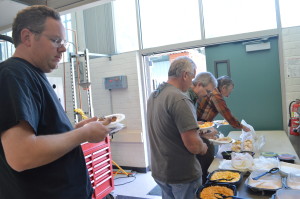 Mr. Black continued work on the supplies-purchasing list for the Lab. He also polished out the passenger side of the Suburban with a dual-action buffer to prepare the vinyl placements. Mr. Black went on to assemble the Competition Robot's Shooter as well.
The lab closed at 2:00 AM, one of the latest times thus far.