It was the big day! The moment everyone was waiting for. Bag Day had finally arrived, the day where – at midnight – the team would have to put their Robot into a bag until Competition.
Needless to say, everyone was pretty excited. After the briefing meeting, members split off to finish their assigned tasks.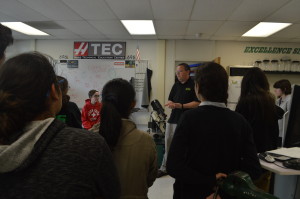 Lousaper made some spacers for the Winch and Telescoping Arms on the CNC Lathe. She then helped clean the drive field in the cafetorium.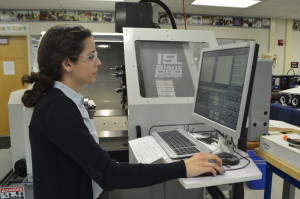 Programming members Bhavin and Daniel worked on getting the code ready to test on the Competition Robot. Other members Jake and John helped set up the drive field. Jake also ran some battery tests.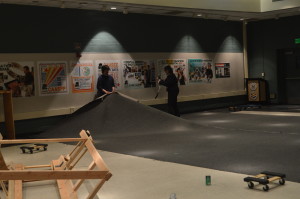 James of CAM finished the Operator Control Panel. The entire creation of it, from CAD to the countersinks were all him.
Business team member Nicole finished the black and pink t-shirt designs and the rough draft of the Business Plan Design.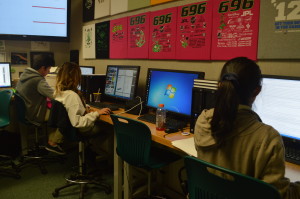 For dinner the team got chili. It was quite good.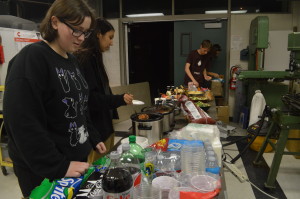 Andrea ordered buttons and helped Arvin and Anna with putting vinyl on the suburban.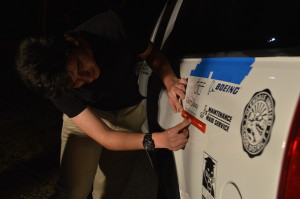 Karin of Prototype team helped Mr. Larson with cutting and bending the polycarbonate that will become the sponsor panels.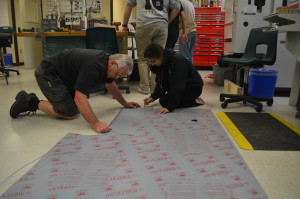 Mr. Black spent some time to review the t-shirt design then order quantities. He then polished the driver's side of the Suburban to help the Business team apply the vinyl logos. After this, Mr. Black helped get the Competition as ready as the team could before bagging it.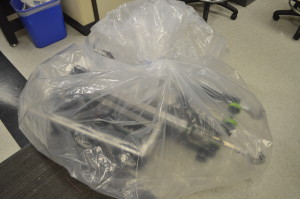 The lab closed at 1:00 AM.