This day was devoted to the qualification matches. These are where different teams are assigned with other ones to form groups of three, facing off other groups of three. As many teams were still working on their robots, it wasn't uncommon to see fewer than the six called teams taking to the field. These matches were for the spectating Scouts to consider the different robots while the teams were being given ranks. Depending on whether they won the match or if they beat all the defenses, teams would be given ranking points, moving them up the rank numbers.
Team 696's robot Banshee was called up for its first qualification round, the second match of the day. Banshee performed fairly well for its first actual run that wasn't purely practice. These qualification rounds were played as if they were an elimination match, but with all team robots instead of just the top alliances.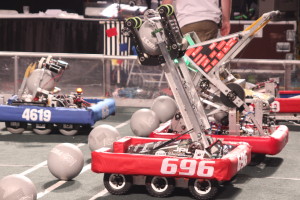 During Match 2, Banshee was able to score some low goals and even lift itself. This was a huge feat as no other robots have been shown to even be able to lift themselves. To be able to lift itself this early in the competition goes to show how essential Banshee can be in the elimination rounds.
The next time Banshee took the field was in Match 21. During this round, Banshee worked very well with its alliance members. Together, the trio were able to breach the Outerworks, gaining a rank point. Once again, Banshee hung itself at the end of the match.
Round 32 was the last match for the day in which Banshee would participate. During this round, Banshee shot many low goals and breached the Outerworks. At the end of the match, Banshee aligned itself with the enemy castle, hoisting itself up for the third time. Banshee was then the only robot to hang itself each and every time it went up in the qualification rounds. Team 696's alliance won this match as well, gaining two more ranking points.
During this day, Arvin and Lousaper performed the Chairman's interview. This took place around 11:20 and went very smoothly, the judges even complimented the duo on their appearance and their graceful professionalism.