Back to the usual schedule, Team 696 members met after the end of school in the lab. There was a quick meeting of course, where congratulations were given for the great competition experience and the day's tasks were assigned.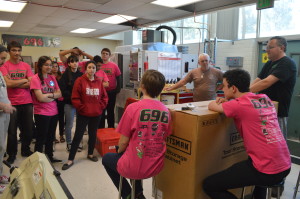 Once again, Nicole of Business spent the day ordering printed materials before we leave for the Ventura. Business member Andrea began designing the cover for the Tech Doc as well as putting together the actual booklet.
Programming team member Daniel continued his hand at practice driving. Other member Jake helped set up the field as well as setting up the battery on the robot. He also worked on SnapDragon's code to practice his coding skills.
Lathe member worked on the team's Trello list. Using her advanced technological skill set, Lousaper compiled a list of all the materials and parts we took to competition for organizational purposes.