Business member Andrea transferred media taken during the Los Angeles Regional competition onto Team 696's network. She also finished taking inventory of all merchandise in the lab and proofread the business documents still needing to be printed.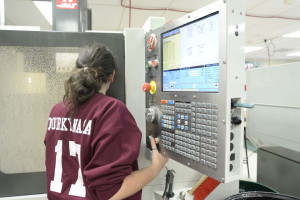 Nicole, another Business member, made some minor corrections to the Business Plan, Brand Guide, and Sponsor Booklets prior to their printing. Anna worked on vinyl and updating certain files.
Lousaper, the sole member of Lathe team, finished compiling the list of necessary materials to take to the competition. This was crucial to ensuring nothing would be forgotten for the Ventura competition.
As members stayed at the lab until after 6:00, pizza was provided as dinner.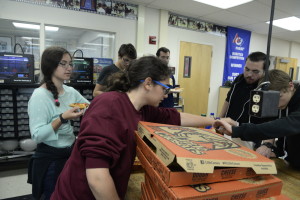 Mr. Black welded a new jack mount onto the team's trailer and filled the tires of both the trailer and Suburban to the proper pressure specification. He then adjusted the Tormach Lathe turret-lock sensor as well as installing coolant wiper and cable loom.
The lab closed at around 11:00 PM.