With only a few days left until Build End, every second wasted was a failure. But Team 696 still held a meeting before getting to work. It was a Friday, but school ended around 1:00 as it was a minimum day for the students. This meant Team 696 could meet for longer.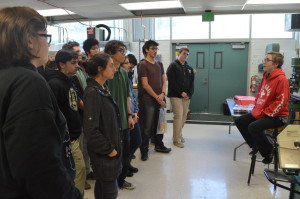 Jacob of Simulation team worked on the documentation. This covered static friction, shooter geometry, ball trajectory, drag, video verification of ball trajectory, calculating trajectory, and cleanup on the formatting. Team 696 is certainly glad we have Jacob as a member.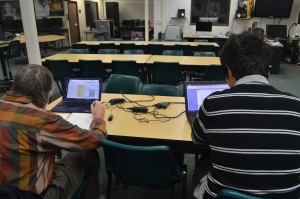 The wonderful Lathe team, consisting of member Lousaper, kept working on Delrin spacers. These would be formatted to the Telescoping Arm. Lousaper also worked on the spoil syncro bar and omni-wheel shaft.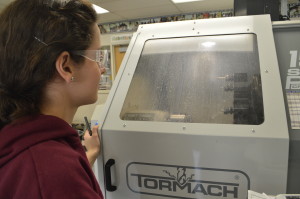 Dustin, a member of CNC Mill team, remade two of the Spring Plates for the Telescoping Arm because two had snapped. The process took about 5 hours, he used the Super Mini Mill 2.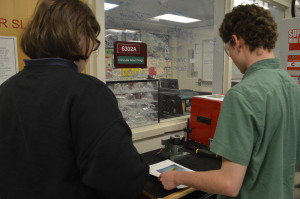 For dinner, as the meeting ran over 6:00 PM, was brought in. It consisted of fantastic chicken, pita bread and hummus, green beans, and a home-made potato dish.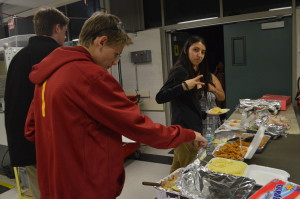 Business team member Arvin finalized the textual components of the formal Business Plan. He was assisted in doing so by Anna. Andrea helped set up the gym for practice drive runs with the robot. She also finished the button designs on Adobe Illustrator and continued the Alumni book cover.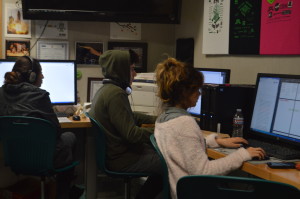 Daniel of Programming helped set up the gym field, then he worked on getting the Robot Arm to move and shoot balls. Bhavin, Jake, and John helped with field work.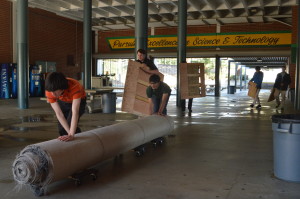 Bhavin also worked on fixing some code.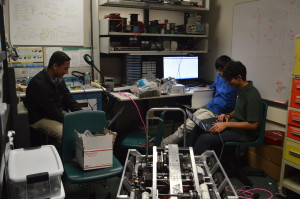 Mr. Hoard, the Business team's mentor and local "Super Genius" as he's called, saved the day once again. The Telescoping Arms were sticking together, so the Extravagant Mr. Hoard designed and manufactured a prototype of the "hats."
Mr. Black sent  in the request for buses for our regional competition trips, made a lunch reservation for the Ventura trip, worked on building an ordering list for equipment and supplies for the lab, and machined snap ring grooves in the omni-wheel axles for the robot's claw.
The lab closed at 12:00 AM.