Deprecated
: Function get_magic_quotes_gpc() is deprecated in
/home/buwqldmf/public_html/2016blog/wp-includes/formatting.php
on line
4366
Deprecated
: Function get_magic_quotes_gpc() is deprecated in
/home/buwqldmf/public_html/2016blog/wp-includes/formatting.php
on line
4366
As it is Martin Luther King Jr. day,  Clark Magnet has no school this beautiful Monday. And so the Robotics members took full advantage of the absence of school and walked into the lab at 9:00 AM. Greeted by doughnuts and a long day of work ahead, they went to their designated spots with doughnut in hand. Except they ate before going as Team 696 does not like ants invading our lab.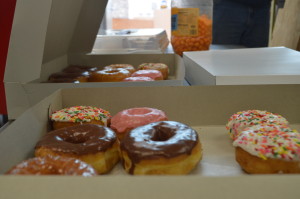 To begin the blog update, we begin our journey in the Cinema room where Jacob and his mentor are hard at work as members of Simulation and Analysis sub-team. Commonly known as MATLAB team, they've been recently trying to figure out why their simulation's drag does not compute to reality. After taking some videos of the ball being launched from the robot's prototype mechanism, Jacob was able to figure out the velocities by the difference in distance betwixt frames. Finding how little drag affected the ball in reality whilst the simulation had a lot of drag, the pair decided to do more research into drag itself. After digging around a little, they discovered something called "Reynolds number." Simulation team thinks what they're experiencing is called "drag crisis," which is where the drag decreases during the launch of an object because Reynolds number increases. Further research is needed though before any possible findings can be conclusive.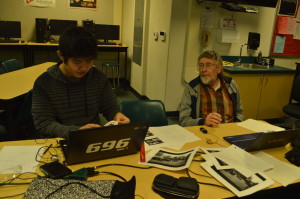 Eden of Welding helped assemble mechanisms and Obstacles after cutting out wood for other people. He and James of CAM also cleaned up the Material Shed because Team 696 wishes to maintain cleanliness and order as it reflects our maturity and responsibilities as an FRC team.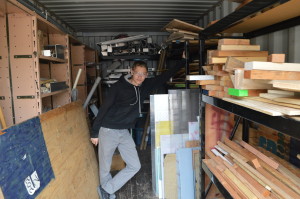 Roupen, the other Welding member, tried different wheel positions and compression on the prototype shooting mechanism. After several different combinations of the two, one was finally found that maximized performance and so a huge adjustable shooter mount with piston-actuation mechanisms was constructed.
Mikia of CAD 3D printed out a wheel hub, and Anthony K. completed the bumper supports. Claire made more progress on the electronics plate.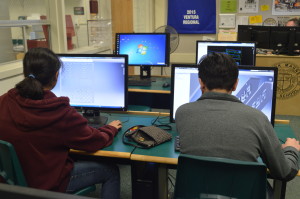 Dustin of CNC Mill assisted Devon of Prototype in creating more ramps for the Castle Tower Batter as well as fixing up the old ones that had been oriented wrong – needing to have their supports redone. However, the two didn't have enough plywood to complete two more ramps that will be needed later. Dustin and Devon then helped out other CNC Mill member Nanor and Jonna of CAM on creating another side for the Castle Tower. After this, Dustin also helped Karin and Lauren of Prototype with constructing the bases for the Obstacles.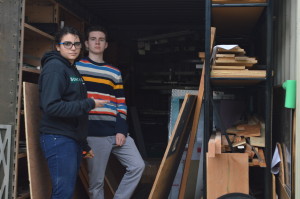 James of CAM started working his CAM for new wheel adapters after helping out Eden clean the material shed.
Before continuing, I shall quickly note what was had for lunch for the team had lunch today. Consisting of salad and pizza, it could be said that this lunch was both delicious and nutritious.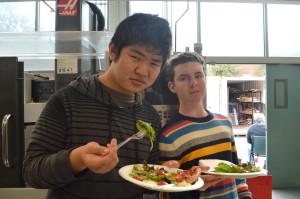 And now I shall continue: Prototype members Lauren and Karin worked with Lathe member Lousaper on cutting up pieces of 4×8 plywood.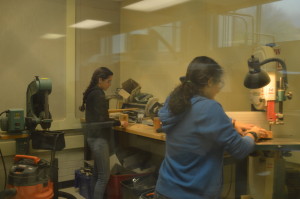 The trio needed the wood to create two more bases for platforms and ramps.These two would make four new ones in total that the group has made. After assembling the platforms, they helped Nanor and Dustin of CNC Mill and Jonna of CAM with building the second High Goal. A little later, Lousaper worked the Lathe at the request of Mr. Black.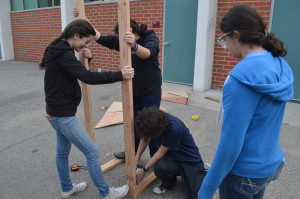 Nicole of Business team finished the new Team 696 brochure. She also updated the sponsor brochure and our business cards. Andrea brainstormed more ideas for the Stronghold Team 696 buttons and edited sponsors. Andrea organized the Business room and also did tasks for Mr. Black such as creating copies of important documents. Anna did vinyl work, Chairman's essay, and worked on the Business Plan. Final member Arvin also worked on the Business Plan and Chairman's essay alongside Anna.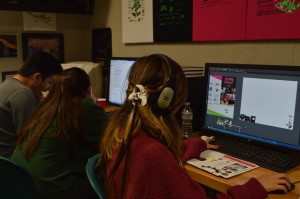 Daniel of Programming made a PID control system. Jake made extra sure that Snapdragon was ready to go for the next day as Rosemont students would be coming by. Bhavin continued getting the camera to work with GRIP over the robot's network. And John developed code for the encoders of Snapdragon.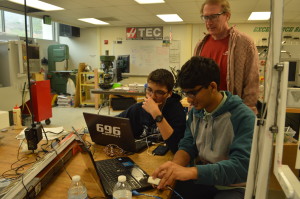 Mr. Black procured additional lumber for the Obstacles, for which 696 members were very grateful of. He then tested five different tires to determine which one would suit the robot best for its future tasks. Mr. Black also designed the custom CNC machined wheel hub, unpacked the kit of parts, and even placed orders for wiring supplies. The whole team thanks you Mr. Black for the hard work and passion you put into Team 696, we couldn't do it without you.
Mika, our brilliant President added items to the "need to buy" list for Mr. Black. She then went to help Business team in their activities as well as provide feedback on their recent output. And of course, she looked over all the teams to make sure everything was being done in a proper efficient way.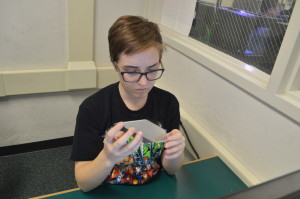 Alexander, our clever Vice-President decided to order parts in place of transmission assembly. He also finalized the superstructure prototype, but it still needs iteration and perfection. Alexander worked on the bumper design, finishing the basic concept but it still needs to be translated into a CAD model. He also inspected the designed wheel hub for accuracy, checking to see if the hub could actually be used as it was designed to.
For the final half-hour prior to the "official" ending of the meeting at 6:00, all members partook in cleaning up the entire lab. This included organizing, taking out the trash, and even vacuuming.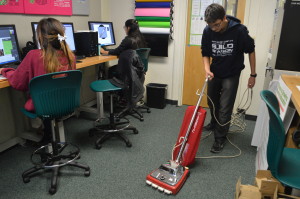 The lab closed at 9:10.