The final day, the big finish – going by several names, this day is known for one thing –  elimination rounds. Elimination rounds were a series of matches, starting by first alliance to two wins to advance, and to first to three wins in the finals. The losing alliance would stop their advance right there, while the winning would continue to semi-finals, then to finals. Each alliance would be made of three teams, chosen from the top eight teams in order of ranks.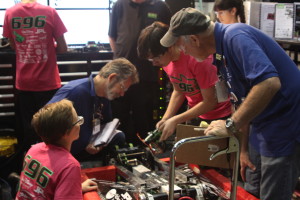 Before these elimination rounds were to take place, there were still a few more qualification matches to finalize rankings. Team 696 performed fairly well in these as it has been doing for the past two days.
The top eight teams were shortly chosen, and they took their positions on the field. Starting with the first, they'd pick the second of three teams on their alliance. The fourth ranked team, Team 5510 The Da Vinci Coders, asked Team 696 to join their alliance. We graciously accepted the offer and took our place next to them. On the second run through the alliances Team 207, The MetalCrafters, were asked to join our alliance. And with that Team 696 was now part of one of the eight alliances that moved on to the elimination rounds.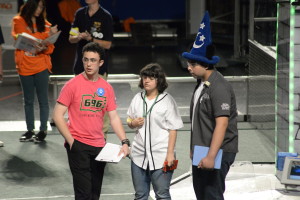 One does not know the feeling of anxiety and nervousness until they are watching their robot participate in a ruthless elimination match. Team 696 members sat on the edges of their seats, watching with wide eyes as their alliance advanced through the games, sometimes winning a match, losing the next, but then winning the final one to secure their advance.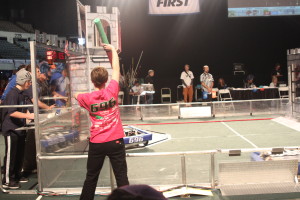 Team 696's climb halted at the Semi-Finals. After winning one and losing one against none-other than Team 987's, The High Rollers, alliance, Team 696's alliance lost the third round. This marked the elimination of Team 696 from the competition, but that didn't stop members from proudly congratulating their opponents.
By the end Team 696 members were 987's matches as if they were their own, crying out and yelling alongside them. The High Rollers' alliance ended up winning the competition, allowing them to move on to the FRC Championship matches.
Throughout these final matches some members went around in big inflatable-suits to get spirits up. They were a huge success, getting entire groups of spectators to dance along.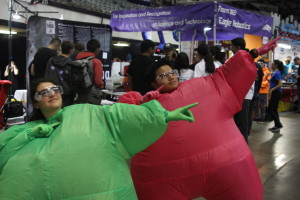 After the conclusion of the matches, there was an awards ceremony where recognition and trophies were gifted upon mentors and teams. Team 696 was actually bestowed the Excellence in Engineering Award, sponsored by Delphi.