Whereas a regular Monday would end for students promptly after 3:00, it is at that time that Robotics team 696 begins. Running a rather tight schedule, members met in the lab at 3:10 for a small meeting where they'd be updated on new information and given their task for the day. Among other various things said, Mr. Black mostly talked about the achievements made in such short time. He also reminded us how this was only the beginning, for there was still much to do. And with that we began work at 3:25.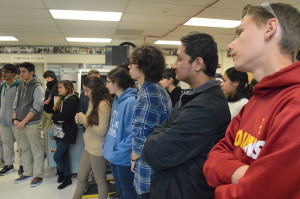 Right from the beginning, all teams started working furiously on their individual tasks. Programming team took on many separate tasks. Jake worked on Snapdragon, attempting to get it to drive slower so it wouldn't be too risky to move around. John was tasked with getting a code that would work for QHR, so he found one and made modifications to allow QHR to be operable.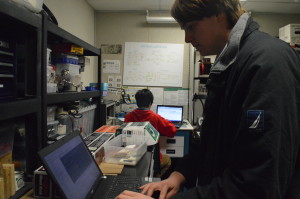 Daniel and Bhavin – also of Programming – spent their time attempting to get the AXIS camera working over the available network. Daniel also made sure there were copies of crucial codes and software setups already on the server, for future reference and as a back-up.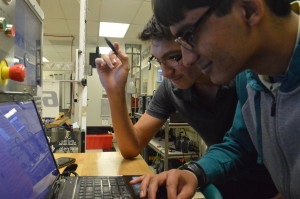 Lousaper of Lathe worked with Lauren of Prototype to inventory the kit of parts the team received on kickoff. After finding that two items were missing, they notified Leadership team and were then tasked to another job.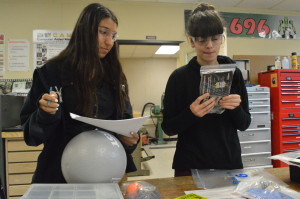 Lousaper and Lauren combined forces with CNC Mill members Dustin and Nanor as well as CAM member Jonna. Together the five worked on creating the frame for the High Goal. With minimal mistakes, or screwups (ha!), the frame was completed. All left to do is to mount the frame to a 6'8″ piece of wood. To reward themselves, the group took a banana break. Team members of 696 take their health very seriously.
CNC Mill members Dustin and Nanor teamed up with Jonna of CAM. The trio finished up a CAM program that'd cut out the High Goal for the castle game-piece. After which they used the program to cut the goal out on the Techno Router, and were assisted by Lauren of Prototype and Lousaper of Lathe. Together they all mounted the goal to more sturdy pieces of wood as to keep it stable for when they mount it for practice.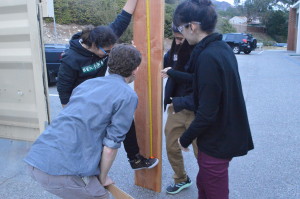 Simulation member Jacob discovered an error in his ways. After discovering that the initial equations the team thought best to find the angle of the arc was incorrect, he set out to right this mistake. Jacob then got his inputs on the distance of the goal in relation to the vertical position instead of the horizontal position. Hopefully this will lead to more accurate predictions of ball trajectories.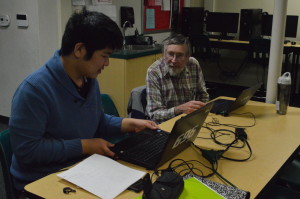 Luke of Web worked together with Leadership team and Mr. Black. They held a meeting with the scouting system developers.  The meeting focused on what type of input and output they wanted to see from an ideal scouting system despite technical limitations. Desiring the system to be built on a game-independent framework, they agreed that it will be built using a web-based back end and browser client-side. This would allow the system to be easily adapted for use in 2017 and any future games. Also desired for the scouting system is a drag-and-drop style interface that'd be used for configuring the field for each match along with a snapshot showing how the field is set up for each match. These tasks they discussed would most likely require an additional scout. The group also briefly discussed long-term future technical possibilities of generative processing, using all available data, all available scenario combinations, and empirically-derived tuning variables to run a simulation and statistical analysis on all possible outcomes. They plan to look into connectivity and hardware at the next scouting development meeting.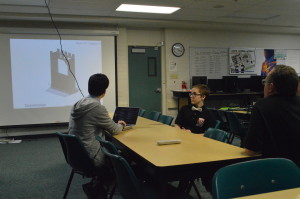 Business team was very busy this day. Andrea spent some time accounting the light-bulb data to find who had yet to give money. She also used Adobe Illustrator to begin designs for a 696 team button. Andrea began by sketching drafts of the possible designs, finding many of the backgrounds too busy and needing improvement. Nicole created three more versions of the 696 Brand Guide cover to try and find the best candidate. After creating texture variations for the backdrops, she got opinions from members throughout the entire team.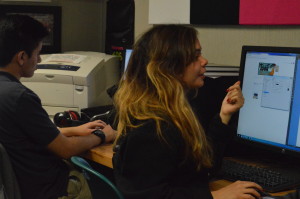 Arvin continued updating and revising the business plan and designing graphics for the plan. Anna began drafting an essay for the Woodie Flowers award. And she has alluded that she has come up with a creative way to capture the judges' attention right away. Beyond this, she has given no spoilers.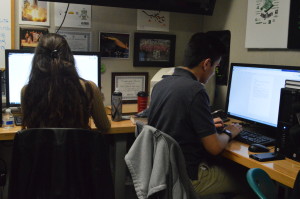 Devon and Karin, both members of Prototype team, began building the Drawbridge. To do so, they constructed a bill of materials needed for said Drawbridge. They plan to make it from plywood and polycarbonate, but the pair of builders still need some parts to create the Drawbridge hinge.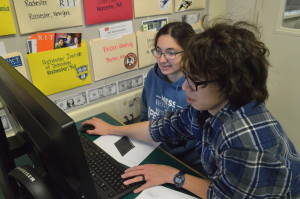 Eden of Welding kept working on the Sally Door and finishing up ramps for the various obstacle platforms. Head of Welding Roupen finished the Rock Wall obstacle. He then began creating the moat, and nearly finished save for a few missing screws. Roupen has noted that QHR has a 50-50 record when up against the Rock Wall, so there's something to improve and modify next time to ensure a 100 percent success rate.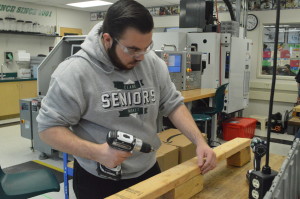 Mr. Black met with Mika and Luke our leaders to review the Chairman's Award details. While looking through the section of the administrative manual, they found that the video is not due on February 4th. They've agreed that the best thing to do now is to find an angle for this year's award entry. A meeting later on will go over what to do next regarding the Chairman's Award. The group is also currently considering the VexPro 2-CIM ball shifter at the maximum possible gear reduction. Mika, Luke, and Mr. Black also watched about 15 minutes of Team Indiana Ri3D project and noted a lot of success from a 6 wheel drive chassis using pneumatic wheels with an 8″ diameter. Near the end they also planned the upcoming talks and demonstrations towards students and parents at Toll Middle School for Wednesday.
Alexander, our radical Vice-President, was absolutely amazing this day. Not only did he work with CAD and CAM, assisting them in every way he could, he also got on a call with a fellow Robotics team. While talking with them over the phone regarding what wheels would best suit a robot for this years challenge, he wrote down notes on paper over clipboard and had people bring up relevant information or objects using their computers. He was truly a sight to behold.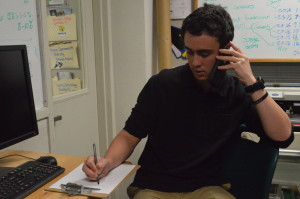 Leaders Alexander and Mika worked with CAM member James to try and find the correct-sized wheels for the robot. They concluded that industrial-style offerings do not suit the deign well, rather performance-oriented ones might.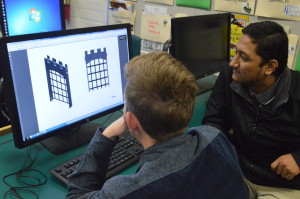 Mika, our bodacious President, met with Mr. Black to discuss the upcoming events and what tasks the team should be focusing on in the upcoming days. Afterwards she led a quick meeting with Prototyping regarding their goals and then with the Business team on what they've done so far. Once done with that, Mika moved on to meet with Mr. Black and Luke of Web on the subject of the scouting system. She also discussed the Chairman's Award with them until about 5:00. For the last hours of the day she focused on getting everything prepared and ready for the middle school presentations that the team would be attending very shortly.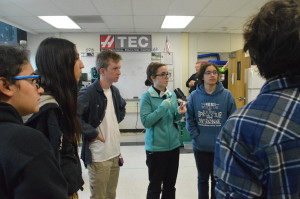 CAD members Sipan, Claire, Anthony K., and Mikia continued looking through the game manual to get familiar with all the materials to be used on the robot.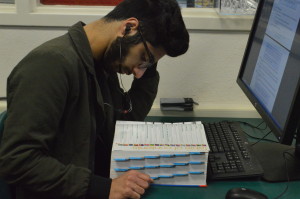 They also discussed exactly how wide and tall the robot should be by the end. Mikia, Anthony K., and Claire also searched up possible wheels for the robot. Knowing that they needed one wide and large enough to get over the obstacles in the Outer Works, they also had to limit results to ones that would permit the robot fit under the Low Bar. Obviously, this was a very tasking job for the group.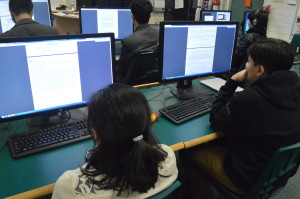 Team 696's Stronghold, nicknamed the lab, closed their gates and raised their moat-bridges at 8:55.