Excited for the upcoming competition, the team chatters amiably amongst themselves over breakfast. The breakfast was held at the hotel they were staying at.
Heading over to the venue where the competition was to be held, Team 696 competed in the qualifying rounds. Unfortunately, their performance was not superb. This was due to multiple reasons involving the driving and mechanics of their robot.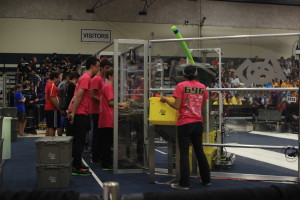 The team was listed as twenty-two of a total thirty-six teams. While not too pleased with this scoring, all team members remained professional in both their actions and language.
Scouting continued until all qualifying matches finished.
After all matches ended, the team headed out to dinner. Eating at El Torito, the team celebrated their fellow member's birthday. Much cheer and joy allowed team spirits and morale to recover.
After returning to the hotel, members turned in after a quick dessert consisting of ice-cream procured from across the hotel.