Another day, another dollar. Of course, just working alongside our fellow team members at Team 696 is more than enough payment. And thus, another successful Friday passed us by, full of achievement and bonding.
Daniel, Bhavin, John, and Jake Z. of the Programming team worked hard at rewriting code for autonomous control of the robot. They also fully reconfigured QHR to work on an Xbox controller. As always, their mentors kept an eye on what they were up to, making sure everything was done properly.
Over on the Welding team, newcomer Eden practiced fillet and flat welding under the tutorship of Roupen. They also welded a one-by-one 1/8th boxtube to another one-by-one 1/8th boxtube.
Business member Anna designed and printed signs for the lab, and later placed them in their appropriate places. Meanwhile, Nicole researched FRC awards and helped Andrea continue setting up the t-shirts on canvasses for later redecoration of the business room. They also continued the redesigning of Team 696's brochure and got quotes from students to display in said brochure.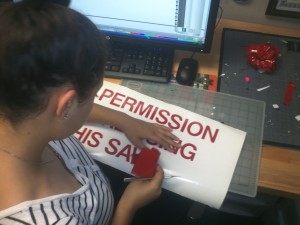 Media team, Chris H. and Armand, finished their Thank You videos. They then proceeded to prepare their work spaces for the next meeting.
Jonna and James, of CAM, utilized the plasma-cutter to make plates. Preparing the plasma-cutter and creating the plates would take up the rest of their time.
Mika, our wonderful President, oversaw all operations of the team. At the beginning-meeting, she awarded Daniel with the Golden Wrench Award. She spent the rest of her time assisting sub-teams in their tasks.
Alexander, our equally wonderful Vice-President spent his time helping CAD in their work.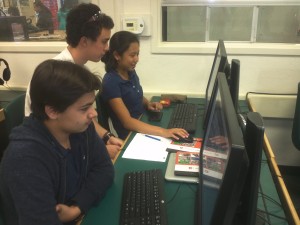 Animation team explored 3DS-Max. Anthony C. and Chris R. also used a snow generator for their programs.
Yerine, Jacob, and Arvin continued their MATLAB review and practice on the Simulation team. They were also given the intro to their later project – mapping the trajectory of a football.
Luke, of Web, continued interviewing team members. His tactics are superb, and it can be said that the whole operation is Luke-ing good.
CAD member and only person on 3D Printing, Mikia printed two puzzles of South America. Mikia also studied CAD software.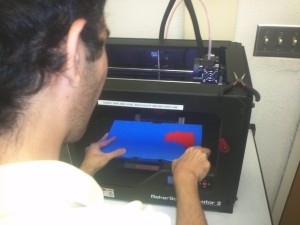 The other CAD members, Sipan, Claire, and Anthony K. performed the fall-training routines. They also setup Vaults servers for the whole team (very important), and finished packing the 3D printed robot parts.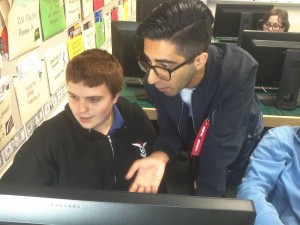 Prototype members Meetkumar, Lauren, Devon, and Karin practiced drilling, tapping, and filing by drilling, tapping, and filing.
The Lathe team was able to practice using the CNC lathe machinery up close. Lousaper and Arpi performed hands-on practice under the supervision of Mr. Black.
And of course, let's not forget Blogging and Photography. Samuel Witt spent the day sorting photos and getting material for his blog. He also took beautiful shots of certain members to give to Business team to go with their quotes.
The day as a whole was pretty normal, except for the surprise snack. Samuel's mother had purchased pizza for the whole team, and had it delivered to the lab. After Samuel communicated this to Mr. Black, Alexander, and Mika, a space was cleared for the plates, napkins, and pizza.
Once it arrived, Samuel placed plates in a stack as well as the napkins. Per policy, the mentors went first, then the students quickly followed. All eating was done away from any computers, and everyone washed their hands afterwards. Everything happened within thirty minutes, and then it was cleaned up and everyone returned to work.
The lab was closed shortly after 7:00.