Once more, that time of the week had finally arrived – Friday. It's on Fridays that we get to go to Robotics club, and this Friday was no exception. However, unlike other Fridays, this day was also a minimum day at school. This means that school ends at 12:50 instead of 3:00.
With the early ending of school, Robotics started at 1:30 and would end around 6:00. As the school didn't offer lunch during the day, Robotics club had pizza available for any students that wanted it. Many members took this kind offer up, and enjoyed delicious pizza from the time of 12:50 until 1:30. After that, we all helped clean the lab up and set off to work.
Before getting to work, the Friday meeting took place. After the tasks were assigned, the Golden Wrench Award went to rookie-welder, Eden Morris. Blushing with gratitude, Eden graciously accepted the award with tears in his eyes.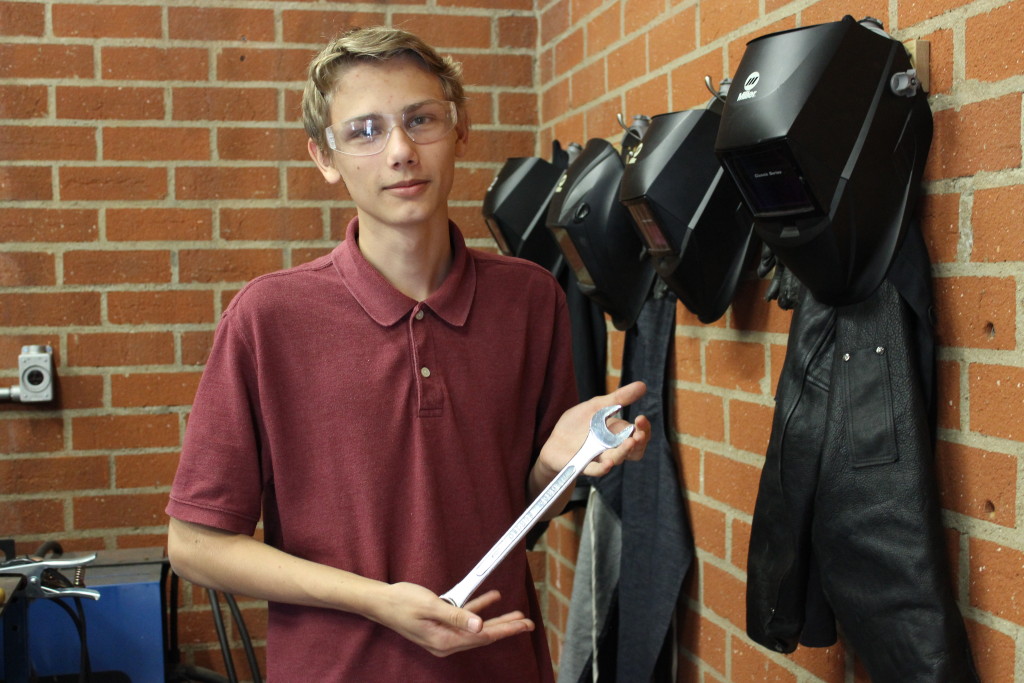 With Fall-training in full motion, all teams were busy with their individual training and work.
On Business, Andrea and Nicole were busy setting up the shirts onthe walls, and Andrea was also being taught how to print vinyl signs. Annam teaching Andrea how to print vinyl signs, was herself printing vinyl signs for the lab. And Arvin, a possible new Business member, was working on a sample press releases and researching entrepreneur awards for the team.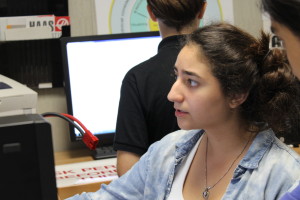 Luke and Josiah of Web Design were both finishing up team interviews.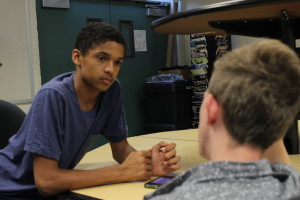 Due to working separately, they were able to conduct interviews faster, quite the smart tactic for a large team like ourselves.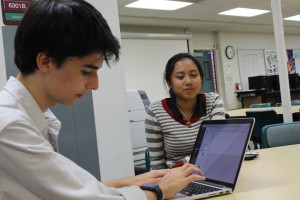 For the Media team, Armand was the only member present. He spent the day sorting files for later use.
James of CAM made G-code for the CNC to be able to pocket a one-by-two box-tube. His team rookie, Jonna, tested the G-code to check for mistakes. The two of them synchronize flawlessly such that they work like parts of a fully functional robot.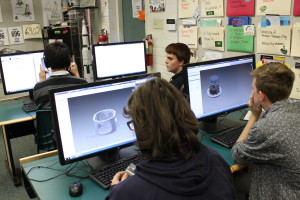 Chris R. and Anthony C. worked harder than any other day on 3ds Max. These two members of Animation were creating characters on the software to learn how to work their software the best.
Programming team member John worked on the autonomous coding using QHR while Jake finished configuring the robots to be controlled manually by a remote. While they did this, Daniel created and worked on the logger, which would log the information from the robot. Bhavin developed Snap Dragon's code, which is essentially all of the robot's functions. Their mentor Dr. Clouse oversaw these operations while catching up on ChiefDelphi.com, which is the FRC website forum for updates on information regarding Robotics.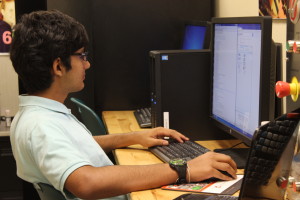 Roupen and Eden, members of Welding helped Prototype team with building a flywheel. This will later be used to launch basketballs.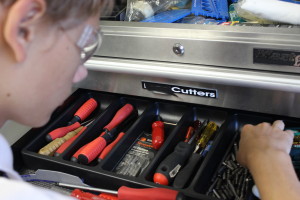 Meetkumar, Lauren, Karin, and Devon – all members of Prototype – spent the day designing and building a flywheel. They received help from the Welding team.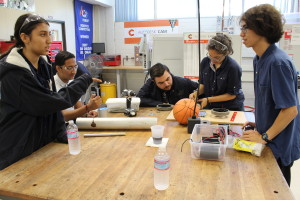 Mika, the supreme President of Robotics explained what mechanisms were and what prototype requirements were expected from the Prototype and Welding teams for their flywheel. She also consulted the 80-20 manual to locate what parts need to be ordered. And, of course, she made her rounds to check in on the sub-teams.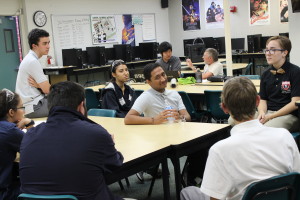 Alexander, our equally supreme Vice-President of Robotics helped out the CAD team with their Fall-training and their drive-train designs. He also assisted Mika with the 80-20 manual and designed a flywheel for later application.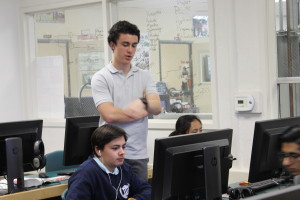 On CAD, Mikia studied Inventor software while Claire and Anthony K. designed a gearbox on Inventor. Sipan spent the time designing a drive-train on inventor.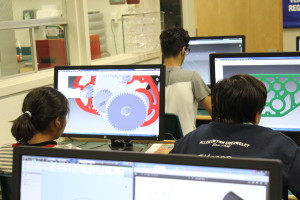 CNC Lathe and Mill students Dustin, Nanor, Lousaper, and Arpi learned the basics of operating the CNC Lathe under the mentorship of Mr. Black. They even got to make their own custom part using the Lathe.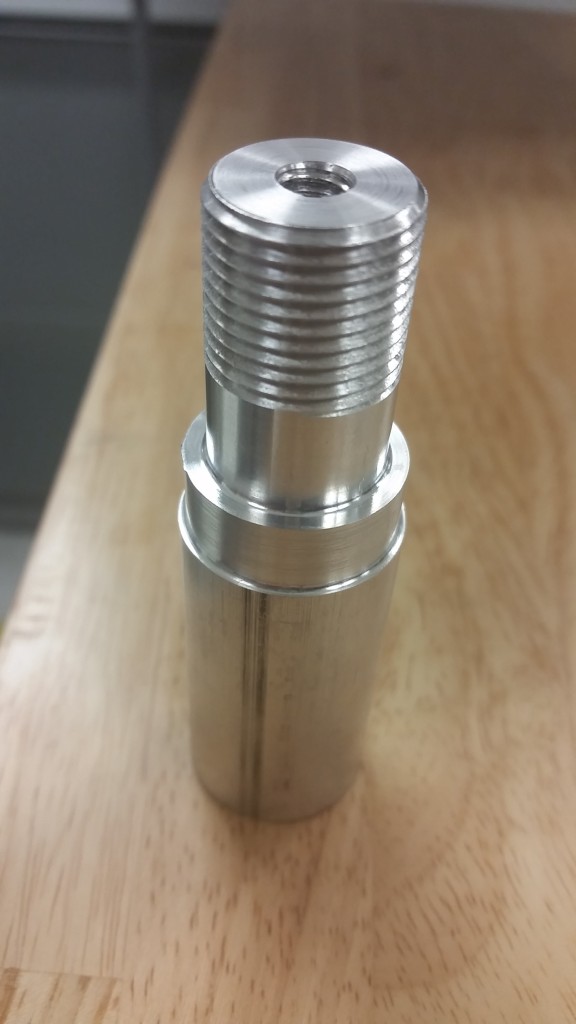 Dustin says "it's pretty neat." One important lesson all of them will definitely take away from this experience will be to always check the coolant nozzle so it doesn't spray the operators.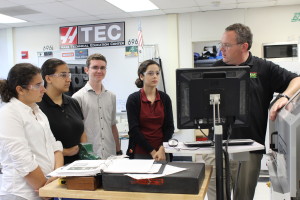 Simulation member Jacob wrote a program to animate the trajectory of a football using MatLab. With help from his mentor Jim Stone, he also developed the standardized procedures for file management. He also established the goals of Simulation team.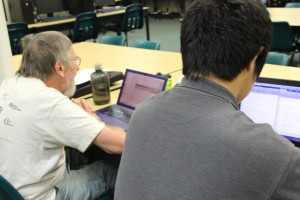 Mr. Black spent the hours helping CNC Mill and Lathe teams. Once they moved on to other work, he went to his computer to conduct Robotics work and answering emails.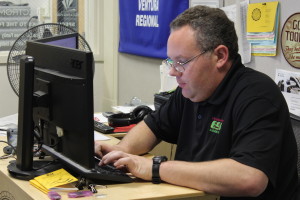 Last but not least, Samuel – member of Photography and of Blogging – spent the day taking and sorting pictures and getting material for this very blog you're reading.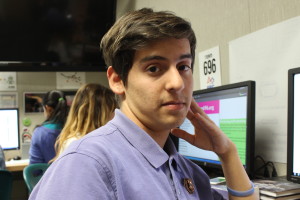 The lab was closed around 7:00, another successful day that should make all members of Robotics proud.