As October transitions to the spooky Halloween side of the month, the work in robotics transitions from easing into our respective jobs to being expected to complete our tasks perfectly with maximum efficiency. Of course, those new to robotics still fail at times, but they aren't given any special treatment as they're just as capable as the robotics' veterans.
During the meeting that consistently takes place prior to the teams splitting apart to work, the Golden Wrench Award went to the CNC Lathe team. Lousaper proudly received her team's award.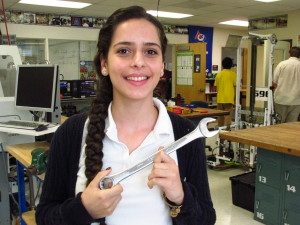 Chris R. was left all by his lonesome on the Animation team, and he continued to learn how to operate 3DS Max.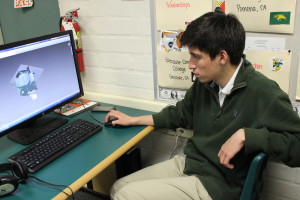 On Simulation Yerine and Jacob continued their Matlab work. Yerine was taught the details of their project and ODE from Jacob. Their mentor, Jim Stone, had Yerine and Jacob review Matlab as well.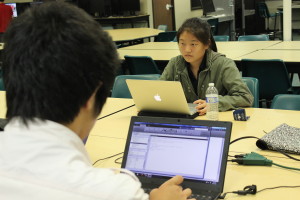 Armand and Chris H. of Media spent the day organizing photos and videos. This is not a simple task as there are hundred of files to look through.
Luke and Josiah from Web finished up their interviews. Luke then edited the 696 website, fixing bugs and adding new events with additional information. Josiah and Luke also helped Media sort through pictures and videos.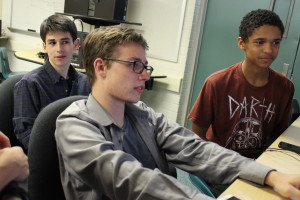 CAD members Claire and Anthony K. created an intake using Inventor. Sipan, another member, continued to work on his drive train and was able to create an assembly for the Fall robot update using Inventor.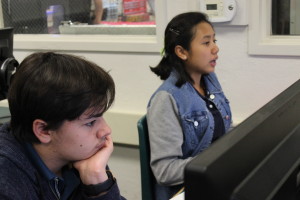 Over on CAM, James and Jonna created the tool path on Inventor, sending it over for the CAD team. James also plasma-cut four parts for later use.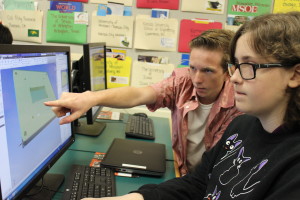 Business team received a new member by the name of Arvin. Sound familiar? If so, that's because he started on Simulation, but after considering how he could better suit the team's needs as a whole, it was decided to place him into Business, where he spent his first official day canvassing the shirts for the room.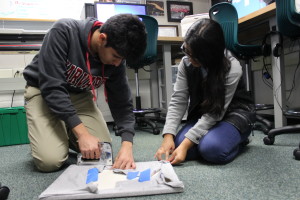 Anna organized the robotics drive and went over press relations. Nicole continued her work on the brochure and Andrea performed light bulb accounting.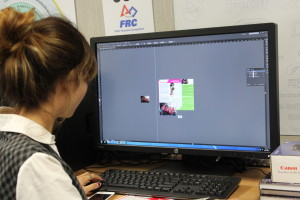 Programming member Jake continued making the robot controls on the remote as logical as possible, and he tried to get the hood slider on QHR to work. Daniel spent his time getting the router on the robot to function so the robot could connect via remote. Bhavin wrote the code for Snap Dragon to work from a controller and he mapped the functions and parts of Snap Dragon.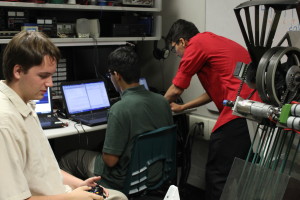 Roupen and Eden of Welding helped out prototype team while Eden also practiced welding and preparing his final part for his presentation.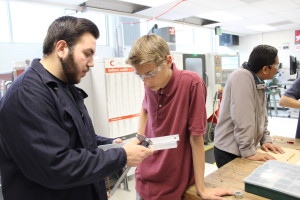 Lauren, Karin, Meetkumar, and Devon – the Prototype team – continued their hard work on the flywheel. They surpassed the initial design aspect and moved on to cutting parts of wood for the product.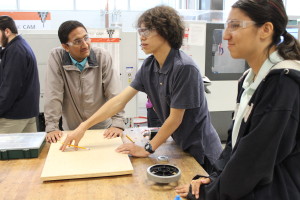 Dustin, the only member present on CNC Mill, worked under the guidance of Mr. Black testing different probe procedures on the Mill.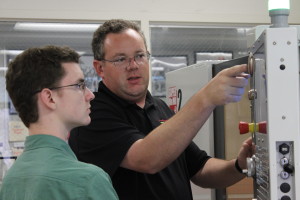 CNC Lathe member Lousaper helped out the prototype team with their flywheel.
Mika, our beloved president worked with business on their spreadsheets; explaining anything they didn't get and assisting them in the tougher parts. She also did her presidential duty of making sure the lab was properly cleaned and that every member remained safe.
Alexander, our benevolent vice-president worked with both CAM and CAD teams. He assisted them in their separate projects. And, of course, he helped the rest of the teams in any way he could.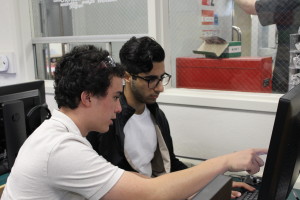 Mr. Black helped Dustin of CNC Mill work on the Mill.
The lab closed shortly after 7:30, sparkling clean and still humming from the day full of efficient work.