The air vibrated with excitement when it was announced that 696 had gotten into the Ventura competition thanks to Mr. Black. We'll be heading over during the spring break, which is my kind of idea of a proper vacation.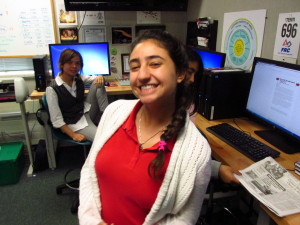 In other news, the light-bulb business has recommenced. For those wondering, selling power-efficient light-bulbs to raise money to go on trips, such as the Ventura one, is the main source of donation towards Robotics club. We're all determined to sell as many as we can to help out our team.
Also, Samuel, of the Blogging (and Photography) team was given the Golden Wrench Award. Blushing a deep crimson, Samuel gracefully accepted the award from Mika.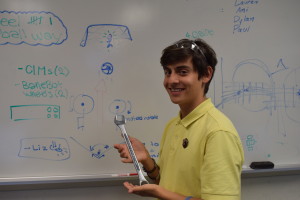 Over in Business, Anna continued creating and writing the applications for both the Woodie Flowers Award and the Entrepreneurship Award. Meanwhile, Arvin outlined the future business plan and worked on his presentation.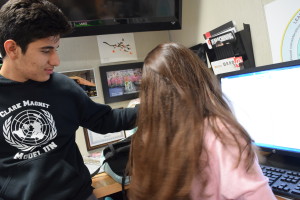 Andrea was maintaining an excel spreadsheet for the light-bulb sales after she passed out the said light-bulbs.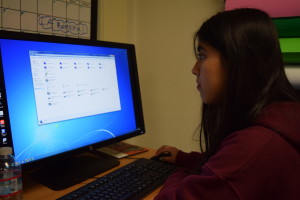 And the hardworking Nicole finished up the brochure.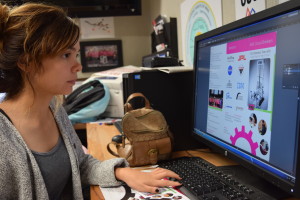 Jonna and James of CAM fixed many plates (not the kind you eat on). They also worked on their presentation.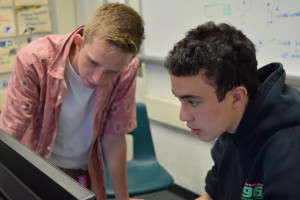 Chris R. and Anthony C. of Animation both continued their tutorials of modelling using 3DS Max software.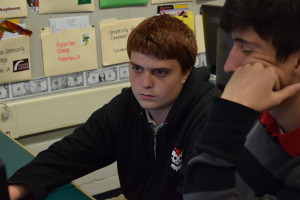 CAD team had a very busy day. Claire and Anthony K. created intake plates, and Anthony K. continued work on his gearbox.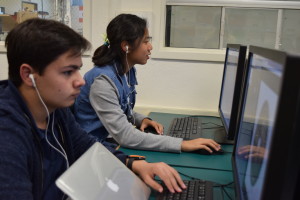 Mikia was learning how to work with autodesk and he started his own plate design. And Sipan, the leader of this group, worked on the drivetrain's gearbox. He also kept updating the assembly for the Fall-robot.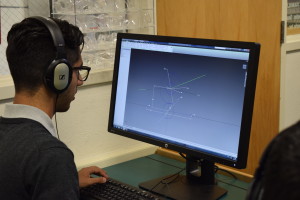 Dustin and Nanor, from CNC Mill, worked under Mr. Widholm to learn how to operate the Mill. Besides some confusion, the two learned much.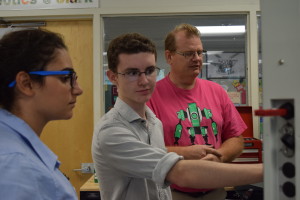 Lousaper and Arpi, from CNC Lathe, worked under Mr. Black to learn how to operate the Lathe. Besides some coolant leaks, the two did perfect.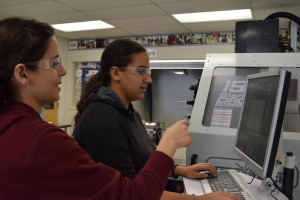 The full Prototype team, Meetkumar, Lauren, Karin, and Devon, all continued prototyping the flywheel.Working together, they were able to cut out more pieces from wood slates.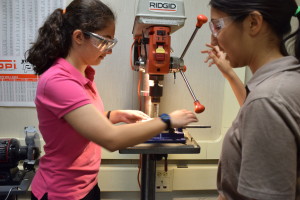 Working together, they were able to cut out more pieces from wood slates.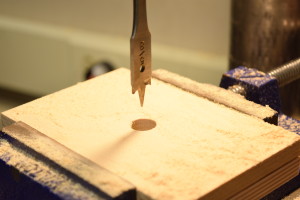 Eden, of Welding, practiced welding a 16 in. box-tube using fillet welds and flat welds. He and Roupen also helped out the Prototype team with their flywheel.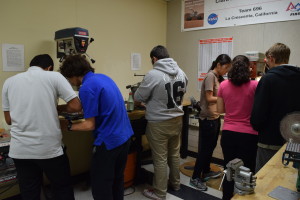 Over on Programming, John continued his autonomous coding of the QHR program, and Daniel worked on the logger. Jake was able to reprogram the hood-slider on QHR. And Bhavin kept on coding SnapDragon from essentially scratch.
Jacob and Yerine, both on Matlab or Simulation team used Matlab to code in the football's drag. This is part of their project, the mapping of a football's trajectory.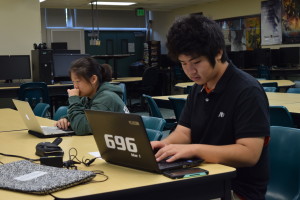 And finally, what we've all been waiting for. THE LEADERS.
First we have our magnanimous President. The one, the only, Mika! She extended herself to all the teams to help out with their tasks. However, she spent a hefty time assisting the Prototype team in their endeavors.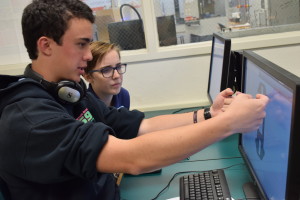 And of course there's also our altruistic Vice-President, Alexander! He, in his greatness, helped out CAD with all of their work and problems. Alexander also continued his own work on an elevator design on Autodesk.
Mr. Black helped out the CNC Lathe team by teaching them the operations of the Lathe.
A little over halfway through the workday, manna from heaven found its way to us. And by this, I mean we were given doughnuts. We all washed our hands before and after of course, and we exercised proper food protocol in the lab. Boy was it delicious.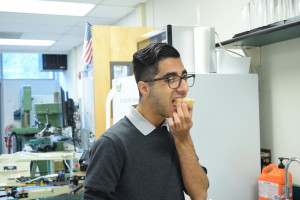 The lab closed around 8:15. While it was actually clean, the faint aroma of doughy goodness still lingered.