At around 8:45, two buses full of Rosemont students in their last year at Rosemont unloaded in front of Clark Magnet High School.  Today was the day that the eighth-grade class of Rosemont toured through Clark, possibly their future high school.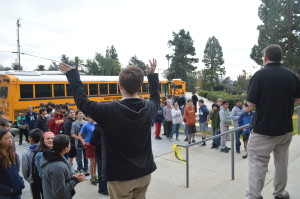 After splitting into several different groups to not crowd the hallways, the Rosemont students were led through the many wonders of Clark. Mr. Black's group first stopped by the classes teaching art lessons such as design class. While there, Rosemont students learned of the various projects given throughout the year and what they'd learn in class.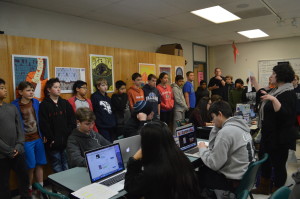 After the design classes, Rosemont students made their way to the photography classroom where Mr. Zamlich was teaching. Crowding around him, he gave them a quick rundown of what his class is like.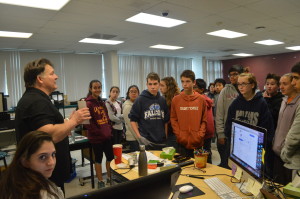 Ms. Evans-Bye's room was next. She explained to the Rosemont students how her class participated in many activities with the chance of winning scholarships such as the Lexus Eco Challenge. She and one of her students – a member of Team 696 – Sipan explained how they go study biology down by the sea. He showed them the rover they get to send down under the water and how they control it. This rover allows students to see what the ecosystem is like under the ocean without having to dive down themselves.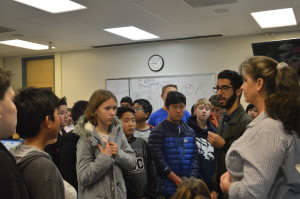 Directly afterwards, Rosemont students walked up the stairs to get to Mr. Over's classroom.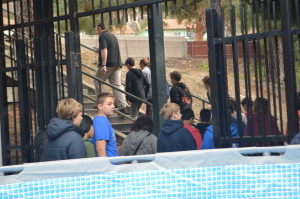 It was there where the Emmy-winning  teacher taught animation to Clark students, and it was there where Rosemont students learned about the animation world. Mr. Over held a discussion with the Rosemont students on why becoming an animator would lead to a promising future.
Right next to Over's room is Mr. Stoup's, where Cinema class is taught. And so Rosemont students exited Mr. Over's room and turned directly into Mr. Stroup's. He showed them what software they'd be working with, and even gave them a demo of the green-screen. Many students were impressed and intrigued by this.
Finally, the moment many Rosemont students were waiting for. It was finally time for them to tour through Mr. Black's lab. It was here where he taught Principles of Engineering, CAM (Computer Aided Manufacturing), and where Team 696 met weekly to work on their robot.
Students were simply amazed at all the complex machinery the Clark lab had. They were even more surprised by the fact that simple students much like themselves could operate these magnificent machines. It was easy to tell they longed to be a part of it, and only wished graduation would come sooner for them to begin their Clark experience.
At around 9:40 the tour was over and the students had to return to their buses. Mr. Dall and Mr. Black answered any questions the many Rosemont students had for them, then Mr. Dall asked what their favorite part of Clark was and was answered with many different responses. As the Rosemont students filled their buses, the only thing filling their minds was how much they were going to enjoy their future high school – Clark Magnet.