Lego Robotics members from Lincoln Elementary came to tour Team 696's lab today. Arriving around 3:00, the students entered excitedly into the lab. They first listened to Mika talk about the team and what goes on in the lab, using Centurion as a focal talking point.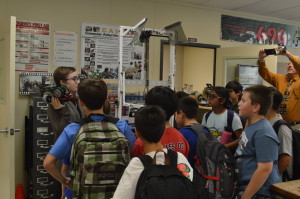 After touring through the programming room, the students then filled the computer room where CAD and CAM teams usually worked. Here Mr. Black told them what goes on, showing them the two 4K televisions overhead.
Mr. Black then led the Lincoln students into the work-floor, where the HAAS machines were. Amazed by the fantastic and large machinery, the Lincoln children were ecstatic to be able to partake in the operation of the powerful machines.
At last, the moment they all longed for was finally here. It was time to drive the robot. Lining up outside, Team 696 Vice-President Alexander worked one-on-one with each Lincoln student, showing them how to properly handle Snapdragon.
Feeling excited and trembling from happiness, the Lincoln students left Clark Magnet's Robotics' lab. Never before had they been so sure of what high school they wished to attend. From what they experienced today, all wished to attend Clark Magnet.